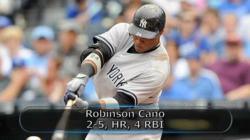 Yankees fans can capitalize on the win by getting 30% off Yankees Tickets at tickethunteronline.com with promo code "wicked"
a quotable
(PRWEB) May 07, 2012
Rodriguez and Cano step it up after coming up short in the last 5 games. Helping the Yankees to a 10 to 4 win over the Kansas City Royals. Tickethunteronline.com projects Yankees tickets to sell at an even higher margin after today's victory. They have announced a limited time 30% discount with promo code "wicked" at tickethunteronline.com
Alex Rodriguez hit a 3 run shot in the 8th for his 5th home tun of the season facing off against the Kansas City Royals today. The success couldn't have come at a better time for A-Rod who has not had an RBI in 7 games.
"That's what we're expected to do," Rodriguez said afterward. "For us to do what we want to do this year, Robbie and I, hitting three and four, will have to do damage like that.
"Today was a big day."
Robinson Cano came alive with a grand slam for his second home run this season and second RBI.
Earlier in the week Joe Giradi, team manager, asked for suggestions on how to rearrange the line up. The tongue in cheek comment need not be answered any more.
"They have to feel good about going into the off day, I mean they have to with the way they swung the bats today," Joe Girardi said. "It's gotta give them both confidence.
"At the end of the day we have to do the job," Rodriguez said. "Yesterday wasn't so good, today was much better and we expect, regardless of who we're playing, whether it's the best team or the worst team, we gotta come out and do what we do."
The Yankees performance today was one of there best of the year. Ever since a knee injury took out their closer, Mariano Rivera, the Yanks have struggled putting wins together.
Yankees fans can capitalize on the win by getting 30% off Yankees Tickets at tickethunteronline.com with promo code "wicked"