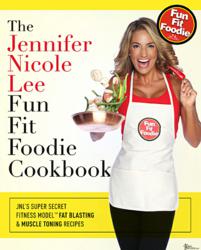 Jennifer Nicole Lee's management team has confirmed her "Fun Fit Foodie Cook Book Tour" starting in Miami, dates to be set soon Coral Gables all the way to New York City in the fall. To order your personalized and autographed copy, visit www.JNLBook.com
New York City, New York (PRWEB) May 08, 2012
[Jennifer Nicole Lee is a bestselling author, recently adding a cookbook to her already very impressive list of books she has authored. With over 90 fat blasting and muscle fueling recipes, JNL finally reveals her secret super fitness model recipes which keep her billion dollar body and physique always camera ready and ready for her close ups. With hearty rib sticking meals such as her 'Ranchero Breakfast Bowl' and 'Thai Coconut Soup', its hard to even imagine that her recipes can actually be healthy. And asked why she sometimes enjoys cooking in the [nude, she states "with such a hectic schedule, and with always so many people around me, when I get actually an alone moment and no one is around, I celebrate cooking au natural. There is nothing wrong with whipping up a bad wicked pasta dish naked with just an apron on. Also, being naked while I cook it's a brutal reminder that I am what I eat. A moment on the lips as they say is a life time on the hips!"
Jennifer Nicole Lee's super fun spin on gourmet cooking is a fresh new twist to the old "have-to-do" of cooking. She confesses that she would never cook naked in front of anyone, but only when she is relaxing in and she has the time.
"Cooking to me is an art form, and there are many a sculpture of naked women and too many paintings as well, so what's the harm in grabbing a glass of wine and having at it".
And when asked who are her favorite all time fans of her cooking, JNL responds coyly "the three men in my life. My husband Eddie of 14 years, who actually is so great, he will eat anything that I cook for him, and then our two sons. I am the luckiest woman in the world to have real men actually love my cooking, and come back for more. And yes, they are very picky eaters."
Living with three men with really big appetites actually was at one time a problem for this super fitness model. As it is said "necessity is the mother of all inventions" so JNL had to find a method of cooking that was healthy but didn't scream low calorie, low carb and low fat in order for her manly broad to dig in and eat. And being a first generation Italian, and raised on big hearty thick meals, JNL was forced to become super creative in her cooking methodology.
"Im surrounded by women in the fitness industry who eat grilled chicken and steamed vegetables every day, and are bored with it. But they keep on eating this, because this is the only 'healthy' meal they know. So their family eats one meal and they eat like birds. It wasn't fair to me, so I created the Fun Fit Foodie Cookbook. And Im proud to admit that I am a foodie, I live to eat smelly cheeses and red wine. I love exotic spices, and dark chocolates. I could not live without it. But the [Fun Fit Foodie Cookbook allows me to 'indulge' but still enjoy super foods that are good for me and actually help me fight off and keep off the fat."
Jennifer Nicole Lee may like to sometimes try her hand in the kitchen whipping up her culinary delights full monty, but she is much more than a pretty face . Her 80 plus pound weight loss has motivated the global masses. She has been featured on such huge key media such as e Oprah Winfrey Show, E! Entertainment, Fox & Friends, and has also graced countless magazines. JNL™ is an in demand lifestyle expert and wellness guru, inspiring all to be fit and make it fun. She can be seen on major TV networks at any given moment, captivating all with her fun and realistic approach to living a healthy life. JNL is also a devoted wife and loving mom, proving her point that "even busy moms can do it all." JNL says it best: "It's my goal and passion to help increase the quality of everyone's lifestyle." For more info, please visit http://www.JenniferNicoleLee.com and http://www.TheFunFitFoodie.tv