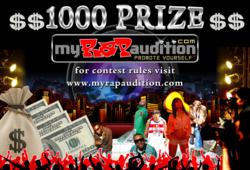 "MyRapAudition.com is like American Idol for the Rap industry."
Atlanta, Georgia (PRWEB) May 09, 2012
MyRapAudition.com is a social networking website showcasing undiscovered Rap & Hip Hop performances on video. It's an audition, like American Idol, for the Rap & Hip Hop industry. Watch, share, rate and comment on music videos, just like on YouTube, from emerging Rap & Hip Hop stars. It's a site where artists can promote themselves, add friends to their network - and build an audience.
MyRapAudition.com will be giving away a $1000 cash prize for their 1st Contest, which will end on July 17th, 2012. Must be a member of the site to enter or vote on the contest, membership is free & instant.
John Frank and Derek Peacock launched the site because they saw the abundance of talented Rap & Hip Hop performers who were having a difficult time finding an audience or a record deal. "We're here to play a major part in launching the successful careers of many new Rap & Hip Hop artists, both here in Atlanta, Georgia, and around the world", says John Frank. "We truly believe we can help artists find a larger audience or even a record deal, and in turn, we can help audiences discover talented Rappers they may never have heard of."
"Our site is like YouTube, it's a video sharing community - except we give away cash and prizes!", says Derek Peacock.
Voting has already begun! For more information visit http://www.myrapaudition.com