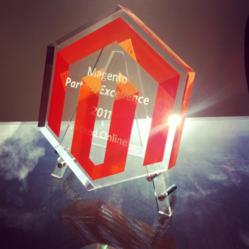 Our recognition as a strong performer in the global commerce space is due largely to our deep understanding of how consumers behave in the digital marketplace
(PRWEB) May 09, 2012
At the Magento Imagine eCommerce Conference 2012, Exceed Online was honoured with the prestigious Magento Partner Excellence Award.
The Partner Excellence Award recognises the top 10 Global Magento partners (of almost 400 in total) who have had the greatest success in their respective market – defined as both selling Magento Enterprise, and delivering quality implementations to customers. Evaluations for the awards are based on client satisfaction surveys performed by Magento on all of their partners.
"We are extremely honoured to be recognised by Magento," says Kyle Aspinall, Managing Director and founder of Exceed Online. "2011 was a busy year of growth for us and an award like this confirms the hard work, effort and innovation that our employees bring to work every day."
Other news highlighted by Magento was the momentum gained since its last conference in helping customers spur business results. Over the past year, the Magento community has doubled in size to 808,000 registered members and with X.commerce, there are a total of 1.1 million members in its developer community. Magento is sustaining growth through continued investment across its full product suite, from its Enterprise Edition and open-ecosystem solutions, to its cloud-based Magento Go offering.
The growth of the Magento community has also driven the growth of Magento Connect, one of the world's largest eCommerce application marketplaces. With more than 5,600 extensions now offered in Magento Connect – a growth of 73 percent – any merchant can now customise, enhance and extend almost any area of their Magento store. Additionally, Magento saw 71 percent growth in its Solution Partner network to reach almost 400 solution partners around the world.
Exceed Online estimates 6,000 merchants are operating their online business on Magento throughout Australia and New Zealand. Recognised retailers such as Harvey Norman, Office Max, Bing Lee, and many more recognise the flexibility and cost effectiveness of Magento.
"Digital commerce has changed global consumption patterns, making it essential for companies to deliver the most relevant information to consumers at the right time and through the channel most convenient to them," said Aspinall. "Our recognition as a strong performer in the global commerce space is due largely to our deep understanding of how consumers behave in the digital marketplace. This knowledge, combined with our technical expertise, enables us to create powerful user experiences which re-inforce the merchants' brand personality, and that is what sets us apart in the global eCommerce space."
Forrester Research reports that eCommerce is growing at a double-digit rate year-over-year in North America and Western Europe; growth is even faster in the Asian Pacific market, which now accounts for more than 40% of the total global online population.
This explosive growth in digital commerce has contributed to an explosion in demand for Exceed Online's core expertise. "We build our methodology around what we call 'Agile Commerce Framework'" says Aspinall. "Rather than seeing their online offering as an adjunct to the brand, we take a comprehensive "whole of customer" view of our clients.
This involves a complete examination and recommendation of how the brand behaves, a full analysis of the customers digital marketing goals and their internal resources, and a comprehensive and full support suite of managed commerce services. "This combination enables clients to communicate and deliver consistently and confidently on brand promise across a multitude of new digital channels." says Aspinall. "The future in this space is very exciting".
About Exceed Online
Exceed Online is a consulting-centred eCommerce Agency engineered to transform marketing for the connected world. Their differentiated capabilities and structure have enabled them to become a market leader, operating as an independent company.
Exceed Online has deep industry expertise in Business-to-Consumer (B2C) and Business-to-Business (B2B). Exceed Online's clients include P&G, Nestle, AvisBudget Group, Contact Energy, Sky TV, Brightstar Corp, Singapore Airlines, Dermalogica and Warner Music.
http://www.exceedecommerce.com.au
About Magento
Magento is the fastest growing e-commerce platform with over 100,000 merchants and brands worldwide and a host of Industry Partners that create applications and extensions for the Magento platform. Magento is a feature-rich, professional Open Source eCommerce platform solution that offers merchants complete flexibility and control over the presentation, content, and functionality of their online channel. Based in Los Angeles, Magento is a fast-paced, entrepreneurial organisation dedicated to the mission of enabling the eCommerce ecosystem.
http://www.magentocommerce.com
To stay up to date with Exceed Online, including blogs, ExceedTV, news, and events, follow us on Facebook, Twitter, LinkedIn or Youtube.