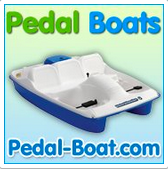 with the growing need to stay in communication with our clients and those that really love pedal boating, a Facebook Fan Page just seemed like a natural progression
Scottsdale, AZ (PRWEB) May 08, 2012
Pedal-Boat.com a long time leader in all things pedal boats today launches a new interactive website along with a Facebook Fan Page. This long awaited launch is here just in time for summer.
"We knew several months back that a time to launch a new site just in time for summer was a must", says Bob Jones, Marketing Director of Pedal-Boat.com, "with the growing need to stay in communication with our clients and those that really love pedal boating, a Facebook Fan Page just seemed like a natural progression."
Many don't know, but Pedal Boating has been on the rise for several years with many people new and old getting on the lakes and ponds in these comfortable boats. Many of the new pedal boats or paddle boats have canopies, drink holders, and cubby holes. WIth many manufacturers to choose from, Pedal-Boat.com has been a leader in providing in-depth reviews and articles on each.
About Pedal-Boat.com:
Pedal-Boat.com was launched in March 2012 as a goal to bring all pedal/paddle boats in one place. For more information please visit http://www.pedal-boat.com/ or http://www.facebook.com/pedalboat