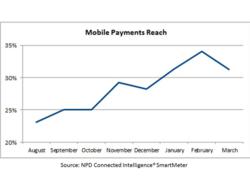 "Mobile payment and wallet solutions are clearly at a very early stage of development, but consumers are demonstrating greater comfort in how they are using their smartphones," said Linda Barrabee, research director, NPD Connected Intelligence
Port Washington, New York (PRWEB) May 08, 2012
Android smartphone users engaged in mobile payment applications are on the rise, growing 8 percent since August to nearly 35 percent, according to new SmartMeter* data from leading market research company, The NPD Group's Connected Intelligence®. An increasing proportion of consumers are engaged in using their smartphones to move money, buy products and services on their phone, comparison shop, redeem coupons, and start to pay for things using the phone itself.
"Mobile payment and wallet solutions are clearly at a very early stage of development, but consumers are demonstrating greater comfort in how they are using their smartphones," said Linda Barrabee, research director, NPD Connected Intelligence. "Consumers are doing everything from basic utility (bill pay, moving money, and account management) to using the phone itself to pay for goods and services of limited value (micro-transactions), including buying a cup of coffee or movie tickets."
The top payment apps used in March include PayPal, mobile bill pay apps (My Verizon and My AT&T), payments acceptance apps Pay Anywhere and Square, and Starbucks and Fandango Movies.
"Ultimately, the success of mobile payment and wallet initiatives rests on changing entrenched consumer behaviors, and shifting the reliance on, and use of, physical wallets and all of its contents to a mobile (digital) version," said Barrabee. "In order to do this, and facilitate on-the-go consumer transactions and commerce, wireless carriers, credit card companies, and e-commerce companies need to make sure the process is convenient, simple, and secure for consumers."
*About NPD Connected Intelligence SmartMeter
The NPD Connected Intelligence SmartMeter powered by Informate is an application running on Android and BlackBerry devices leveraging an opt-in panel of consumers. The SmartMeter tracks data consumption, as well as function and content use. This includes web and application use across 23 categories including Banking, content sharing, e-books, games, navigation, health, music and video.
About Connected Intelligence
Connected Intelligence provides competitive intelligence and insight on the rapidly evolving consumer's connected environment. The service focuses on the three core components of the connected market: the device, the broadband access that provides the connectivity and the content that drives consumer behavior. These three pillars of the connected ecosystem are analyzed through a comprehensive review of what is available, adopted, and consumed by the customer, as well as reviewing how the market will evolve over time and what the various vendors can do to best position themselves in this evolving market. For more information: http://www.connected-intelligence.com. Follow Connected Intelligence on Twitter: @npdci.
About The NPD Group, Inc.
The NPD Group is the leading provider of reliable and comprehensive consumer and retail information for a wide range of industries. Today, more than 2,000 manufacturers, retailers, and service companies rely on NPD to help them drive critical business decisions at the global, national, and local market levels. NPD helps our clients to identify new business opportunities and guide product development, marketing, sales, merchandising, and other functions. Information is available for the following industry sectors: automotive, beauty, entertainment, fashion, food, home and office, sports, technology, toys, video games, and wireless. For more information, contact us or visit http://www.npd.com/ and http://www.npdgroupblog.com. Follow us on Twitter: @npdtech and @npdgroup.
FOR MORE INFORMATION:
Sarah Bogaty
+1 516 625 2357
sarah.bogaty (at) npd (dot) com