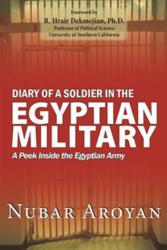 Pasadena, CA (PRWEB) May 09, 2012
"Diary of a Soldier in the Egyptian Military: A Peek Inside the Egyptian Army" (published by WestBow Press) relates author Nubar Aroyan's compulsory draft into the Egyptian Army, his unique experiences with circumstances and characters in that institution and finally his perilous escape and safe arrival in America.
"Diary of a Soldier in the Egyptian Military" is the story of a Christian young man's experiences in the Egyptian military during the trying years between the Six-Day War of 1967 and the Yom Kippur/Ramadan War of 1973. It relates his forced draft, his eventful life in the Army and after more than four years of service with no end in sight, in total desperation, his nail-biting tale of escape from the army and the country and arrival in America.
This book was written to express Aroyan's deep gratitude to the Lord for His fatherly care while serving the Egyptian military, which he describes as "the toughest trial of my life", and at the end, riding on His wings, his miraculous deliverance from that harsh institution. It is a testimony to God's invisible but real protection of his trusting child.
Excerpt from the foreword of "Diary of a Soldier in the Egyptian Military":
"This fascinating memoir narrates the personal odyssey of a young man caught in the throes of wartime service in the Egyptian military. Based on the diary he kept in difficult circumstances, the author opens his soul to the reader while offering insightful commentaries about the personalities and events shaping Egypt's conflictual milieu between the 1967 and 1973 wars."

R. Hrair Dekmejian, Ph.D. Professor of Political Science,
University of Southern California
About the Author
Nubar Aroyan was born in Cairo, Egypt, toward the end of World War II in an Armenian Christian family. After graduating from the Architecture Department of Cairo University in 1967, Aroyan planned to emigrate and join his brother in America. But instead he was drafted into the Egyptian army in 1968 together with thousands of other college graduates as part of President Nasser's decision to rebuild his army preparing for the next war with Israel, the Yom Kippur/Ramadan War of October 1973. Entering his fifth year of compulsory military service in September 1972 and being in total desperation, he planned and succeeded in fleeing from the Army and the country and arriving in America to join his brother. He presently lives in Pasadena, California, has his own architectural practice and serves as an elder in the local Armenian church.
WestBow Press is a strategic self-publishing alliance of Thomas Nelson, Inc., the world's largest Christian publisher, and Author Solutions, Inc. (ASI) — the world leader in the popular self-publishing industry segment. Through this partnership, authors benefit from the rich publishing heritage of Thomas Nelson and the speed-to-market advantages of the ASI self-publishing model. Titles published through WestBow Press are evaluated for sales potential and considered for publication under the Thomas Nelson imprint. Thomas Nelson, Inc. continues to "inspire the world" with distribution of products in more than 100 countries worldwide. For more information, or to start publishing today, visit http://www.westbowpress.com or call (866)-928-1240. Follow us @westbowpress on Twitter for the latest news.
###