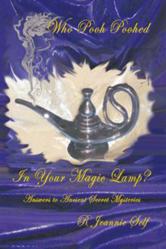 Prescott, Ariz. (PRWEB) May 09, 2012
The popular fairy tale of Aladdin, his cave, the genie and his magic lamp is much more than just a children's story, says R Jeannie Self, author of Who Pooh Poohed in Your Magic Lamp? (published by AuthorHouse). Bolstered with etymological studies, she dissects the words "genie" and "ego," which shows how the story of Aladdin in reality reflects the true message that Jesus was teaching – what is this truth that has been kept secret for centuries and why did the ancient Christian monks know to save and hide this knowledge that is Jesus' true message?
"This could be the most controversial book you will ever read," says the author – and for that reason, she has chosen to be known by the pen name, R Jeannie Self.
With the dictionary in one hand and the Bible in the other, the author of Who Pooh Poohed in Your Magic Lamp? draws startling parallels between the story of Aladdin and Jesus' message.
The author says, "I wrote this book to help readers recognize that Aladdin is, in fact, Jesus," and he was teaching that we all have a genie and a magic lamp within each of us. She wants you to understand that your magic lamp is not broken. "It is just full of pooh pooh. You can clean it out, learn how to use it, then become the person that you were meant to be."
Who Pooh Poohed in Your Magic Lamp?
By R Jeannie Self (pen name)
ISBN: 145206959X
Softcover, e-book
Available online at Amazon and Barnes & Noble
For a media review copy or to contact the author:
Cindy Dashnaw, cdashnaw(at)bohlsengroup(dot)com, 317.602.7137 ext. 2046