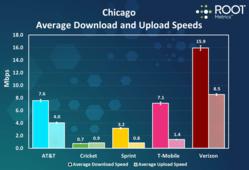 BELLEVUE, Wash. (PRWEB) May 08, 2012
RootMetrics™ announced today the latest Chicago RootScore™ Report and corresponding RootScore Awards. Complementing consumer-generated results from the RootMetrics CoverageMap app, the RootMetrics scout team professionally tests how the carriers perform in cities across the country. The Chicago report analyzes results from 44,837 real-world data, call and text tests on the AT&T, Cricket, Sprint, T-Mobile and Verizon networks.
This is RootMetrics' second RootScore Report for Chicago, having previously tested the area in April 2011. Since that time, AT&T introduced LTE service to the market and its data speeds increased dramatically. AT&T's average download speed skyrocketed from 1.9 Mbps a year ago to 7.6 Mbps during this round of testing. AT&T's average upload speed also improved significantly, from the slow 0.1 Mbps a year ago to a speedy 4.0 Mbps.
Across the country, RootMetrics is increasingly seeing Verizon and AT&T compete for the claim of fastest data network. RootMetrics compares the LTE performance of Verizon and AT&T whenever possible. In Chicago, despite AT&T's increased speeds, RootMetrics testing results showed that Verizon's LTE network performed twice as fast AT&T's LTE network in both average download and average upload data speed tests.
Also different from the last test, RootMetrics was able to include scoring for Cricket. When possible, RootMetrics will test and include results for regional carriers to provide the most complete picture of mobile performance.
"With every city we test, we are laser-focused on sharing relevant data that helps people find the best wireless network to suit their individual needs," said Bill Moore, CEO of RootMetrics. "It's a positive step that carriers have introduced network upgrades in Chicago, but we wanted to check how often LTE is accessible in Chicago and let people know what speeds they will find when using their smartphones in real-world, day-to-day conditions. And although data speed is a significant factor, we always include measures for voice and text results, because those matter as well."
Which Carrier Ranks First in the Windy City?
RootMetrics sorts results to share with consumers which carrier provided the fastest and most reliable data network, which carrier had the fewest blocked and dropped calls and which carrier offered the fastest text service.
•Data Performance: The RootMetrics data performance tests analyzed how fast each carrier's network was able to download and upload files and how often a customer could successfully connect to the data network.
Verizon's LTE network easily outpaced all other carriers' networks, with an average download speed of 15.9 Mbps and an average upload speed of 8.5 Mbps.
AT&T's LTE network earned a second place tie for average download speed and claimed second place outright for upload speed, with an average download speed of 7.6 and an average upload speed of 4.0.
T-Mobile turned in a strong showing with a 7.1 Mbps average download speed, tying for second with AT&T in this measure.
Verizon recorded download speeds above 5 Mbps in 88.1% of tests, compared to second-place AT&T, which recorded download speeds above 5 Mbps in 57.6% of tests. T-Mobile recorded download speeds above 5 Mbps in 55.4% of tests.
Cricket, on the other hand, recorded download speeds below 1.5 Mbps in 87.9% of tests.
With low data failure rates at or below 1.3%, AT&T and Verizon proved to be the most reliable data networks in Chicago. Sprint recorded a failure rate of 14.7%, placing it squarely in last place for this measure.
•Call Performance: Verizon finished first in the overall call category, and Sprint finished last. All carriers, with the exception of Sprint, performed well and tied for first when considering dropped calls. In 1,824 tests, Verizon never recorded a blocked call.
•Text Performance: In testing, RootMetrics compared how long it took each carrier to receive a single text message. AT&T earned the top spot in the text category. Leading all other carriers, AT&T recorded a lightning-quick 1.0 to receive a text in its own network. At 3.0 seconds, Verizon recorded the fastest overall receive time. Sprint and Cricket tied for last in both overall receive time and time received in network.
•Overall: With the strongest overall performance, Verizon ranked first in the combined standings for Chicago. The final results are:
1 – Verizon (97.8)
2 – AT&T (74.0)
3—T-Mobile (65.0)
4 – Sprint (47.8)
4 – Cricket (40.0)
The May 2012 Chicago RootScore Report is the latest in an ongoing series of performance measurement reports and corresponding RootScore Awards from RootMetrics. The company will continue to publish additional reports on U.S. wireless markets to help consumers make better decisions about the right carrier for his or her individual needs. Review all RootScore reports at http://www.rootmetrics.com.
To evaluate the Chicago area, RootMetrics conducted 44,837 call, data and text tests during a seven-day period, covering all hours of the day and night, from April 8- April 14, 2012. The real-world tests were conducted using the RootMetrics CoverageMap app running on Android-based, off-the-shelf consumer smartphones from carriers' stores. To ensure that testing aligns with consumer experience, and to provide each carrier with the chance to rate as highly as possible, RootMetrics utilizes the most advanced smartphones available at the time of testing. Tests centered on activities that consumers perform most often: making phone calls, uploading and downloading files from the Internet, and sending and receiving texts.
Consumers who are interested to see how their network coverage measures up can download the free RootMetrics Cell Phone CoverageMap app for iPhone or Android devices.
Mobile performance varies depending on where people live, work or otherwise spend time.
The results of this report, combined with the geographical coverage maps at http://www.rootmetrics.com and via the Cell Phone CoverageMap app, allow people to make better decisions about the right carrier for their individual needs.
About RootMetrics™
Based in the Seattle area, RootMetrics is a fiercely independent data company dedicated to helping improve the daily mobile experience of consumers. Numbers are powerful and helping the mobile consumer is our #1 priority. We're a facilitator between consumers and carriers, using technology on smartphones to gather independent data so that the carriers hear real-world concerns, can make smarter decisions on how to upgrade their networks, and connect with consumers. We're gathering accurate, trusted data that helps consumers find the products and services that best fit their unique needs so that they can get the most out of their mobile lives. RootMetrics: making mobile work better for consumers.