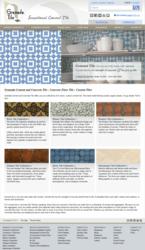 Los Angeles, CA (PRWEB) May 11, 2012
Granada Cement and Concrete Tile has re-launched its website, granadatile.com, with a new design that celebrates the design-centric nature of the brand. The new and improved site includes easy-to-use navigation, comprehensive photo galleries of their cement tile collections, photography of cement tile installations around the world and new features such as a tile blog, custom tile design tools and tile design sharing abilities.
Those looking for design inspiration can view the new Share Tile Designs section where other tile artists showcase the designs they created using Granada's custom tile design tool. It's a great way for fellow tile lovers to see what others are doing and generate additional ideas.
The new Cement Tile Blog offers tips, design ideas and inspiration for anyone interested in designing, purchasing or installing cement and concrete tile. In addition, the blog will feature interviews with some of Granada Tile's favorite designers and architects.
To stay connected with Granada Tile and receive company updates, you can follow them on Twitter (@GranadaTile), like them on Facebook, create your own design Portfolio or register for the Blog at granadatile.com/blog/.
About Granada Tile
Based in Los Angeles, Granada Tile creates sensational, handmade eco-friendly cement and concrete tiles. Working closely with architects and designers, Granada Tile strives to capture the customer's creative vision through cement tile.
Top tier designers and architects (including Tihany Design, Zeff Design, BAMO, Shubin + Donaldson, and Bestor Architecture) have selected Granada Tile for their resorts, spas, restaurants, and offices. Homeowners and interior designers have chosen Granada Tile for their kitchens, bathrooms, living rooms, pools, patios on the floors and walls.
While producing cement tiles at the family's production facility in Nicaragua, Granada Tile lives up to its commitment to be an environmentally friendly business by managing resources responsibly and not contributing to landfills or using toxins.