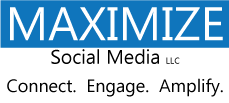 "People love to talk about their experiences in restaurants. Social media is critical to any successful marketing campaign for the restaurant industry," said Mike McLaughlin, President of Maximize Social Media LLC
Los Angeles, CA (PRWEB) May 08, 2012
Social media agency Maximize Social Media LLC announced its restaurant social media program today, giving additional support to the restaurant industry in need of solutions for social media. The program focuses on Facebook business pages, application integration, and Facebook ad management.
Craig Collins, Senior Vice President of Maximize Social Media, said that Maximize's clients are receiving a solid return on their investment in social media. "Restaurants typically have used traditional media such as newspaper specials, where the shelf life is limited. But fans on a fan page or followers on Twitter remain – instead of taking short term space in a newspaper the restaurant essentially gets a new advertisement every day to a growing audience," he said.
Collins noted that Maximize has had success with applications that reward customer loyalty and offer specific specials. "We have clients that have seen a noticeable pickup in business after specific calls to action on a Facebook page. It could be something as simple as offering a bonus if customers come in on a specific day or rewarding customers who come multiple times within a month," he stated.
Integration of applications can have powerful effects for a restaurant. Applications that allow for voting and polling provide valuable feedback to the restaurant owner. Coupon applications provide savings for customers and also help drive additional foot traffic to the restaurant. And applications that enable the customer to make an online reservation (and the integration of Open Table within the Facebook page) allow for greater utilization and reservations during non-working hours.
Mike McLaughlin, President of Maximize Social Media, noted that the social media agency was excited about its results with other restaurant clients. "People love to talk about their experiences in restaurants. Social media is critical to any successful marketing campaign for the restaurant industry," he noted.
Restaurant owners and marketing executives who are interested in obtaining more information are invited to contact Maximize Social Media for a no obligation consultation.
About Maximize Social Media LLC
Maximize Social Media (http://www.maximizesocialmedia.com) is a leading provider of social media management services for clients in over 40 different verticals. With offices in Florida and Los Angeles, Maximize provides social media consulting and Facebook advertising management for clients in English speaking countries such as the US, Canada, and Australia. The company also features social media management outsourcing for busy social media mangers looking for additional assistance on a white label basis.