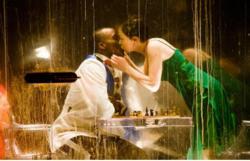 (PRWEB UK) 12 May 2012
For those due to visit the UK over the next few weeks and who are looking to enjoy a bit of culture and history, why not decide to take in one of William Shakespeare's 37 renowned plays at Shakespeare's Globe theatre.
The Globe to Globe festival in London's South Bank is taking place from now until the 9th of June, so head on over to New Globe Walk and help to celebrate a programme dedicated to this famous English poet and playwright.
In advance of the Olympic Games, also taking place in London this summer, the festival is in honour of a number of great Britons, plus some of the creative stars of the modern era.
Part of the World Shakespeare Festival, the Globe to Globe, promises to be an exceptional event, as the world looks to recognise the impact of this extraordinary historical figure.
Across the six weeks, 37 theatre companies will be performing the plays, each in a different language. More than 600 global actors will be used for the event, making for a worthy tribute to the Bard.
So if anyone wants to see The Merry Wives of Windsor in Swahili or Antony and Cleopatra in Turkish, buy tickets online through the festival website. Discounts can be had for those attending more than one performance. As well as saving money here, visitors can also find money off coupons for other London attractions too.