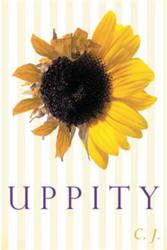 Bend, Ore. (PRWEB) May 09, 2012
In her new memoir "Uppity" (published by Abbott Press), C. J. shares the unusual story of growing up in an abusive home which she says was full of a bizarre mixture of fear, insecurity, humor and love.
In this personal memoir, C. J. shares the heart-wrenching, humorous and unusual story of her life. Unable to properly care for her daughter, resorting to turning tricks for money and eventually becoming abusive to her daughter, C. J.'s mother, according to C. J., suffered from poor coping skills and likely some form of mental health issue. As "Uppity" reveals, C. J. came to understand her mother's abusive behavior as a symptom of the pain and suffering in her life rather than a manifestation of her feelings toward C. J.
"People hear of weird happenings everyday, but vignettes like those told in 'Uppity' are truly unique and perplexing," says C. J. "And what is relevant is that underneath all of that, (I) was able to see the love that existed beneath the veil of abuse."
Readers may be somewhat surprised by the humorous voice that comes through in "Uppity." C. J. uniquely embraces the dysfunction of her life, crafting a memoir focusing on a dysfunctional humor and an endearing, unconventional love between a mother and daughter. She says her mother was abusive despite having an extraordinary amount of love for her daughter. C. J. came to terms with the abuse when she realized that insecurity and fear controlled her mother.
C. J. wants readers to understand "…that they are the masters of their own destiny." She says, "We have a choice to be the victims as well as the choice to be the makers of our happiness."
About the Author
C. J. was raised in southern California and joined the United States Air Force after high school. In 2005, she married the love of her life. She has two children and three stepchildren; she works as a sign language interpreter in Bend, Ore.
Abbott Press, a division Writer's Digest—the oldest and most respected publisher devoted to the education and advancement of writers—is an indie-publishing imprint dedicated to helping writers bring their literary vision to print. Author Solutions, Inc., a leader in indie book publishing, will fulfill publishing, sales, and marketing services for Abbott Press. For more information, or to begin publishing a book today, log on to abbottpress.com or call 866-697-5310.