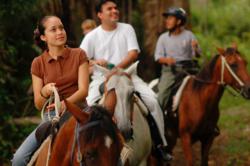 Life and love begin with mothers, so it's only right that the Summer of Love starts with a declaration of our love for mothers.
(PRWEB) May 08, 2012
The Lodge at Chaa Creek, Belize's most well-known eco resort has just declared Mother's Day as an early addition to this year's Summer of Love specials with a "Super Tuesday for Super Mums" deal.
Chaa Creek's marketing administrator Larry Waight said that even though summer is still over a month away, it was only fitting to include mothers in the Summer of Love program.
"Life and love begin with mothers, so it's only right that the Summer of Love starts with a declaration of our love for mothers, and we're making it easy – and affordable - for people the world over to do something really extra special for their mums this year," he said.
Mr Waight said that the mothers' specials are kicking off today, with a Super Tuesday dedicated to mothers.
Bookings made up until midnight CST on Tuesday May 8 will receive a 30% discount off Chaa Creek's signature thatched-roof luxury cottage rooms and suites and 20% off selected all-inclusive Belize vacation packages including the Family Adventure and Inland Expedition Belize holiday deals.
And, if the bookings are made as a gift for mum, a special Belizean rainforest Mother's Day gift certificate will be sent to the lucky mother or emailed to the gift giver, who can then present it to their mother on her special day.
"When you think about it, it's quite an impressive gift, and one she'll remember forever," Mr Waight said, "Chaa Creek is famous for looking after our guests, be they celebrities, members of the royal family or anyone, but we'll be pulling out all stops to make our Mother's Day gift guests feel even more special.
"And these discounts make it very affordable. For the price of a piece of ordinary jewellery you can give your mother a relaxing, refreshing rainforest experience she'll never forget, and if you come along you'll share something truly special together. With our packages, all-inclusive means that everything is included in one low price – accommodations, meals, transfers, taxes, gratuities and activities are all part of the package, and that makes it a great Belize vacation deal."
Mr Waight advised that sons, daughters, dads, grandkids and anyone wishing to honour that special mother must be quick to secure the "Super Tuesday for Super Mums" discounts as the window of opportunity closes at midnight, May 8.
"This is obviously not something we can afford to offer all the time, but we want as many people as possible to share their love for each other at Chaa Creek this summer, and we think giving special deals for mothers is a great way to start.
"I like to imagine the look on a mother's face when she opens up a gift certificate to the best eco resort in Belize and can look forward to a memorable time being pampered with excellent meals, perhaps a massage or natural treatment in the spa, nature walks, swimming, and just getting away from it all in a private 365 acre rainforest reserve where her every need is catered to.
"I can't think of a better way to tell a mother how much she is loved and appreciated," he said.