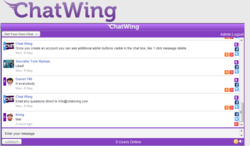 San Diego, CA (PRWEB) May 08, 2012
Blog marketing is one of the most important facets in Wordpress, as proven by the blogs created for this sole purpose alone. Chatwing's developers have seen that a lot of users prefer Wordpress because of the high level of customization that it offers. This is why Chatwing has launched an efficient chat box that can let users maximize their blog marketing campaign in Wordpress.
Chatwing may look similar to other chat applications, but it promises efficient communication for everyone, compared to other chatrooms built for such purpose. "We believe that there is power behind website chat. Whenever people talk about something, especially online, they create a synergy. Now, imagine if this synergy happens in a blog. Users talking about a certain topic will boost that blog's online presence. Chatwing is all about the zenith of communication," Says Michael Diamond, one of Chatwing's developers.
Facebook integration is also considered as one of Chatwing's strengths. Some Wordpress bloggers were fascinated that Chatwing was able to integrate Facebook without affecting the chat box's overall connection speed. There may be occasional lags, but they are tolerable. This simply proves that the Chatwing staffs are working 24/7 in order to maintain the efficiency of the shout box.
Chatwing also offers a high level of customization for all of its users. After installation, the user can now modify the appearance of the shout box easily. To adjust the height and width of the chat widget, the user can slide two sliders until the desired effect is achieved. The user can also pick up color hues in order to match the theme of his Wordpress blog. Title of the chat app can also be changed. Chatwing generates a random string once a title is not provided. After completing everything, the user can now copy the HTML code and paste it to the Wordpress editor.
About Chatwing.com
Chatwing.com has developed live chat software for websites and blogs. It caters to different online communities due to its high rate of connectivity. Everyone can create a customizable live chat box feature in 1 minute or less. Users have the ability to customize the size, color, and fonts of the chat product. The ability to website chat via social media accounts such as Facebook and Twitter enable Chatwing to offer a personal and unique real-time experience to all sites. Chatwing is 100% free and very easy to use.