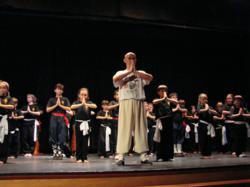 His weight began to drop. His energy was going up; his confidence went up; his complaining became less and less. Metrically his feet open infection from diabetes began to close and heal.
Atlanta, GA (PRWEB) May 09, 2012
There have been many questions about the oriental strict discipline in reference with the western free life style. Can the camp continue to survive with such discipline in such an undisciplined society?
Since the beginning of the Shaolin Summer Training Camp, there have been many stories of many children and youth who came to the Shaolin Institute training camp with various feelings, expectations and doubts when they were given the traditional Shaolin way of training, encountered with eastern way of discipline. http://www.youtube.com/watch?v=uTWP1jsb91g
The Shaolin camp started as early as 1988 at Mobile University campus, then, moved to the University of South Alabama. The camp later experienced many locations such as Spring Hill College Campus, Shaolin Institute New Orleans Campus and Atlanta new campus in Georgia. http://www.youtube.com/watch?v=q8ro86kER7M&feature=BFa&list=UUn5hBdli-Hk7lcFOUVTWfpw
Shaolin-world.net various camps traveled to many cities from Pensacola, Florida to New Orleans, Louisiana, from Daphne, Alabama to Washington D.C. and all the way to the Shaolin Temple of China.
Over thousands of kids went through the training camps. For many years the Shaolin camps were with the US national Sanshou team camps working together in various locations where some of the best world champions were produced under Grandmaster DeRu-Shawn Liu, the head coach of the US team.
Out of the thousands of Children who have come and gone through the years, they all have a story to share of their hardships as well as sweet moments they have experienced at the camps. This is one of the stories about a youth, named Dwight, who was struggling with obesity and diabetes, enrolled last year at the Shaolin Institute Atlanta Campus. http://www.youtube.com/watch?v=2zLFVNReLlA&list=UUn5hBdli-Hk7lcFOUVTWfpw&index=7&feature=plcp
Dwight came far away from Texas to the Shaolin summer training camp with his two cousins, also from Texas Andrew and Oliver who had been enrolled previously at the Shaolin summer camp. They had enjoyed the eastern way of disciplined training along with many other benefits such as weight loss and Kung Fu self-protection skills.
Andrew and Oliver convinced their uncle and aunt to bring their cousin Dwight to go along to the camp with them. The training would be tough, strict, and demanding but their family saw the priceless values and firmly believed that Dwight could truly get many benefits in terms of his health and well-being from Shaolin training camp which saved his life later.
When Dwight stepped into the training camp, most people were skeptical about his ability to be able to participate in any of the classes or programs. He was very over weight (over 270 lbs), both of his feet were open, and terribly infected. He had severe diabetes. He could hardly walk.
Once Dwight's fitness evaluation which included but not limited to his blood pressure and heart rate measurement and fitness testing, was completed, he was found to have a dangerously high blood pressure zone with 230 in systolic pressure and 169 in diastolic pressure. He had no flexibility and no endurance in any of the physical fitness evaluation. At most, he could walk slowly but even then his breathing was much labored and would have to build his stamina in very gradual pace.
The head master of the institute, Grandmaster DeRu, had a long talk with him, expressing that it was going to be a very challenging journey for both himself and the master.
"Together we must make some painful decisions, if you wish to get well, you must discipline yourself and shape yourself with the campus guidance; we must conduct many training segments a day starting from 8:00 am until 8:00 pm." The master continued, "You have to eat what I prescribe to you; no junk food is allowed".
Dwight responded with, "Yes, Sir". From that day Dwight started his hard training journey. He learned to meditate, to breathe, to walk and train in Tai Gong, Tai Chi, Kung Fu and eventually he even learned Sanda Kickboxing.
In the beginning almost every day, he struggled to just start the day at 8:00 am, he wanted to give up, give in to the temptation of easily quitting due to the lack of discipline, it was easier to believe he could not survive this long arduous journey. He would complain that his feet hurt just from walking not to mention being able to run.
"There is no way I can run", but the master would say, "yes, yes, you can, if you get over today you will feel better tomorrow". With the encouragement, support and guidance of his instructors, class mates, and his two cousins, Dwight did not give up.
Day by day week by week Dwight was getting stronger and his weight began to drop pound by pound. His energy was going up; his confidence went up and his complaining became less and less. His blood pressure continued to drop. Metrically his feet open infection from diabetes began to close and heal.
Little by little, step by step Dwight began to transform. Before he knew it, his first month training at the institute had past. He was indeed totally changed into an entirely different Dwight. One week before he left the camps, he wrote:
"I am finished with the Shaolin Warrior Summer Training Camp. It has been an enlightening experience that I will carry on past here. In six weeks I've lost 48 pounds and dropped 11% of my body fat. On top of that, I have brought my blood pressure down from 230/160 to 120/60! "
"I've also sharpened many skills such as my flexibility, endurance, concentration, will-power, strength, and discipline among many, many others. Under the training of such qualified and experienced people, I feel I have been given a unique experience to boost my learning while being immersed in the meanings."
"I've taken every class and they are all masterfully designed to fit any person. All in all, I have been taught a new lifestyle that I will carry on with me for the rest of my life." -- Dwight Brisbin
Dwight continued his weight loss and healing. He is just one out of thousands who has benefited and enriched his life through the eastern traditions of the Shaolin highly disciplined training.
Dwight not only changed his physical appearance he also changed his mindset. He learned to respect himself and others, build confidence in what he could achieve and overcome. To gain respect for oneself, exude confidence, and be able to lead others is priceless.
For the past decade, Shaolin-world.net camps and the Shaolin institute started and continued training many young men and women to overcome their life challenges and obstacles to eventually become US national champions, international champions and champions of the world.
Deforest, Terrell, Dominic and Jacob, students of the institute and the summer camps got their
individual Gold medals and team silver medals at the Greeting Olympics Games in Hong Kong China in 2008. Deforest Denise is now enrolled at college in Birmingham preparing for his medical school. Kasey an 8-year old lovely girl got her gold medal in youth division at the International Chinese Martial Arts Championships in Orlando Florida in 2007.
K. J. Noon was a student of Mike Altman, a US National Sanshou team member under DeRu, has participated in the camps and went to China with DeRu, and got his silver medal in professional Sanda kickboxing in Shanghai, China in 2002. He was voted as one of the best western Sanda fighters by King of Sanda. He has won 4 time national and international Sanda championships, who is now a professional MMA fighter on Strikeforce & Elite.
Patrick Barry who was a long time student of DeRu, has participated in many camps, been to China camps for many times, and fought in China for numerous times. He won a silver medal in 2003 at the World Wushu-Sanshou Championship where over 70 countries participated. He was regarded as one of the most loved fighters in China by both audience and fighters who fought him. He is now fighting on UFC main card. http://www.youtube.com/watch?v=K7_2VapuRtk&list=UUn5hBdli-Hk7lcFOUVTWfpw&index=1&feature=plcp
Cung Le, a world MMA champion, US National Sanshou Team Member and Captain under DeRu, and Melvin Guilard, US Sanshou B Team Member, have all trained at some of the camps and won national and international Sanshou/Sanda medals and now fighting on UFC main cards. Cung Le has been a large martial arts school owner and a well-known international actor for many years. http://www.youtube.com/watch?v=22Pzn3FYTt4&feature=fvwrel
Robert Higginbotham and Kevin Nguyen, who trained in the early camps, have won many gold medals in youth Kung Fu national and international competitions. One is working at Wall Street in New York; another is a fitness gym owner in Birmingham, AL.
Stephen Chester, attended the institute and the camp, graduated from Harvard under graduate and graduate school, now continue his medical school education in University of Virginia, Steve
Dang an institute senior who has participated many of institute camps, graduated from George Tech. now works and resides in Washington D.C.
Mathew Sinks with severe type A diabetes and the life-threatening anaphylaxis came to train full time at the Shaolin Training Camp. He successfully trained in the highest discipline of his life, by going through the entire camp in the US and the US-China Cultural Multicultural Exchange Ambassador training program at Shaolin Temple and other training centers in China. He is now studying at U.C. Berkley in California. http://www.youtube.com/watch?v=aiuMRwmUXRE
Karma–de-Gruy, a senior student and a leader of many institute camps, is now a PhD graduate from Emery University ready for her graduation.
The institute and the Shaolin-world.net camps have demonstrated hundreds of shows for hundreds of thousands of audience members in the past decades. They have served as Shaolin cultural ambassadors and promoted true Shaolin Discipline. They have amazed thousands of audience members, especially the international martial arts masters' community at 2010 EFC international Martial Arts Summit in Washington D.C. and 2011 EFC international Martial Arts Summit in Nashville, TN. http://www.youtube.com/watch?v=VOhNWiCAL7o&list=UUn5hBdli-Hk7lcFOUVTWfpw&index=3&feature=plcp
As the EFC International magazine Eagle Express stated in the 9th issue 2010: ""The attendees were fortunate witness an "as authentic as it gets" display of Shaolin Tradition. The young monks 'revealed the absolute dedication toward the martial arts as well as incredible talent and discipline." Again the Eagle Express stated in 2011 signature edition: "Shi Deru Shawn Liu and his team achieved the absolute pinnacle of excellence in their demonstration of the Shaolin Tradition"
There are hundreds of other stories about the youth trained so diligently through the institute camps and the institute other programs, now making their way to life success. These are just a few briefs.
This year is Shaolin training camp 24-year anniversary. Shaolin training camp continues to take youth and children whose families believe well rounded character training through high disciplined Shaolin Kung Fu training and oriental culture education. For camp details, http://www.shaolin-world.net
Shaolin Institute under the tutelage of Grand Master Shi DeRu is directly derived from the ancient Shaolin Temple family in Henan Province, China which is the cradle of all martial arts, and is committed to teaching original Shaolin wisdom as has been passed down from generation to generation for more than 1,500 years.
Through the wisdom of Chan, Confucianism and Taoism combined with the discipline of traditional Kung Fu, the Shaolin Institute offers age-appropriate curriculum in: Shaolin Culture, Shaolin Kung-Fu (Gong Fu), Tai Chi (Taiji Quan), Qigong, Tai Gong (for Natural Healing) and Chan (Zen) Meditation. The mission of the institute is to empower and enlighten everyone who comes to the institute so as to assist them in conquering life's challenges.
The article is sponsored by http://www.shaolin-world.net