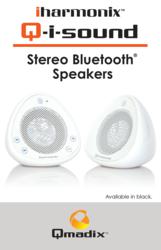 The iharmonix Q-i-sound by Qmadix is designed to give our customers a portable home-quality sound experience anywhere.
Panorama City, Calif. (PRWEB) May 08, 2012
Mobile technology visionary, Qmadix, proudly reveals iharmonix Q-i-sound, Tempered Tech-Armor, and Boostpac Eclipse at CTIA Wireless 2012. These innovative accessory solutions are focused on enhancing the mobile user experience. CTIA attendees will get full experience at 11 AM (CDT) at CTIA Wireless.
In January, 2012, the iharmonix Q-i-Sound prototype first came on the scene at the world-renowned CES convention in Las Vegas. These compact Bluetooth speakers sent ripples through the tech world with its revolutionary easily-portable-meets-high-performance functionality. It is the first portable sound system of its kind that is designed to pair wirelessly with any mobile Bluetooth Smartphone and tablet.
"Until now, there hasn't been anything that could deliver high performance true stereo sound separation via Bluetooth without being plugged into a power source. The iharmonix Q-i-sound by Qmadix is designed to give our customers a portable home-quality sound experience anywhere." – David Khalepari, CEO, Qmadix.
Tempered Tech-Armor Glass Screen Protector utilizes an innovative tempered triplex technology, which prevents the iPhone glass from shattering or scratching when dropped. The tempered glass is .03mm thick, but has strength greater than 9 times the breaking threshold of conventional glass. With propriety surface coating, the screen is resistant to fingerprints and smudges. Quality testing confirms the Tech-Armor tempered glass maintains the same touch sensitivity as designed by factory iPhone settings.
"Buying an iPhone or any smartphone isn't just making a purchase – it's making an investment. Our Tempered Tech-Armor Glass Screen Proctor is designed to ensure maximum screen protection. Once applied, it's nearly undetectable and shatterproof." – said Khalepari.
The boostpac eclipse is a compact universal rechargeable auxiliary battery pack fitted with Smart Technology to properly charge iPhone, iPod, Samsung, HTC, Motorola, Blackberry and most devices with Micro USB ports. Smart Technology ensures that both Apple and Android devices are charged at the proper amperage. It also automatically shuts off when the phone is done charging. This maintains the integrity of the factory charging specifications and battery levels. The LED battery indicator makes it easy for consumers to see how much battery is available.
"Our boostpac eclipse is elegantly tailored for our customers to enjoy their mobile devices the way wireless devices are intended to be used. Ultimately, we are making being tethered to a wall-plug a thing of the past because it gives customers freedom to charge anywhere. The boostpac eclipse is perfect for business professionals, travelers, sharing with friends and anyone who doesn't always have time to wait for their phones to charge in the wall." –Khalepari.
For more information on Qmadix, visit the website
About Qmadix
Qmadix has a proven track record in developing and implementing effective accessory programs across all major channels, including Mobile Network Operators, Dealer Agents, Distributors and National Retailers. Our focus is to help our partners become more profitable by providing innovative products and backing them with value-added programs such as education, training, vendor managed inventory (VMI), private label branding and fulfillment services to enhance the support to our customers. We have built our business from the ground up and have continued to grow and evolve in the accessory industry.
Qmadix's team is dedicated leaders with over 20 years of success in the accessory industry. Their long-standing commitment to providing quality products and innovative solutions has always been the cornerstone of the Qmadix philosophy.
For more information about Qmadix's iharmonix Q-i sound or any mobile accessories, please visit http://www.qmadix.com
Contact Us:
Qmadix
14350 Arminta Street
Panorama City, CA 91402
Phone: 818-988-4300
General: info(at)qmadix(dot)com
Media: media(at)qmadix(dot)com
Copyright © 2012 Qmadix, Inc. All rights reserved. Qmadix ® is a registered trademark of Qmadix, Inc. and all other Qmadix product and service names and slogans are trademarks or registered trademarks of Qmadix, Inc. Other product and company names mentioned herein may be trademarks and/or registered trademarks of their respective owners.