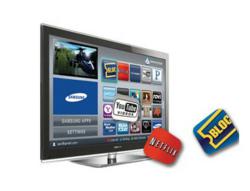 (PRWEB UK) 13 May 2012
For those who got to witness the launch of the new Smart TV range from Samsung at the 2012 International CES back in January, they have been waiting in anticipation ever since. And now the line-up has finally hit the United Kingdom.
These plasma and LED televisions have been long anticipated due to the exceptional number of integrated features they boast. The design of the Smart TV means that the devices are ready to be connected to the internet where the viewer has access to a wide variety of TV applications.
Budget-conscious TV buyers using voucher codes for their purchase may want to consider the lower-spec ES5000, while those with more money to invest in a new television can opt for the incredible ES8000.
Each TV is fitted with functionality for Smart TV and so just requires a working internet connection to enjoy such apps as LoveFilm and the BBC iPlayer. However, those wondering what all the fuss is about need to be aware there is more to this technology than simply interactive services.
Samsung's latest models can all be controlled using motion and voice control, giving users a new way of working their television sets.
VP of consumer electronics at the manufacturer, Robert King, said:
"By combining Smart Interaction, Smart Content and Smart Evolution with true-to-life picture quality and 3D functionality into an amazingly thin form factor, Samsung is enabling consumers to experience the future of Smart TV, today."
These products are now available from leading online retailers and so it is worth taking a look on the internet to see if promotional codes or money off coupons can be used against this big purchase.