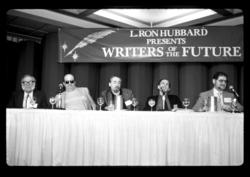 Hello, me! If you kept up the exercises and the anti-oxidants and had the sense to give up those wonderful pipes, you'll be here to explain where your predictions went wrong. Good luck.
Hollywood, CA (PRWEB) May 08, 2012
In a recently opened time capsule sealed 25 years ago at the Writers of the Future awards ceremony held atop the World Trade Center in April 1987, predictions from several of our highest regarded science fiction writers and scientists were revealed. One such forecast was from internationally acclaimed bestselling author Larry Niven ("Ring World" and long time judge of the L. Ron Hubbard Writers of the Future Contest.)
In his prediction, Niven listed 6 points he anticipated would come to pass in the next quarter of a century. While they have yet to be realized, they are certainly moving forward. Point 1 is being solved by privatization of the space industry. (See NYT 5 May article "A Desert Town on the Way Up…to Space," by Kenneth Chang)
As regards point 4, there is the Hollywood Central Park? http://hollywoodcentralpark.org
Point 5 was very effectively addressed by the Award Ceremony's keynote speaker J. Storrs Hall (past president of the Foresight Institute and originator of the nano-technology Utility Fog concept). See keynote speech at http://www.writersofthefuture.com.
"Hello, me! If you kept up the exercises and the anti-oxidants and had the sense to give up those wonderful pipes, you'll be here to explain where your predictions went wrong. Good luck.
"1. We lost most of our space capability in the late 1980s. If we got it back in time, we're mining the Moon for mass and oxygen to back more ambitious projects. World War Three is still a threat, but at least the space defenses will see to it that it doesn't start here. The last place anyone would want to fight a war is the surface of the Earth.
"If we didn't go to space fast enough, someone has developed the power to tell us not to go at all; but that won't last. See (5).
"2. Remember that problem with the pronouns? It's faded away. 'He' in the abstract means man or woman, as it used to. That's a relief. We hate to see amateurs fooling with the tools of our trade: language.
"3. Standing close enough for you to shout at, is a person whose brain is directly linked to a computer. He's a superman, and he knows it. You may too old to handle the surgery, and the expense is daunting; but if you think you're too old to lean to use the technology, you're probably wrong. Think again. Talk to him. (Bright people always want to talk to a science fiction writer.) You may want to get a computer link yourself.
"4. Freeways are obsolete. I can't guess what you've replaced them with, but they weren't working in 1987. A few have already become parks.
"5. Computer programmers train themselves and each other; and they only do that in a free society, whose government is not afraid that they populace will talk to each other. Civilization is measured by the power of its computers. If the base on the Moon is Soviet, the computers and computer programmers were all bought or borrowed from the free world. Effectively, we own it.
"6. Famines are caused by (a) lack of transportation, (b) a surplus of government, and (c) crop failures. By now you've solved transportation, and genetic engineering will have ended all manner of crop failures. If somebody's starving somewhere in the world, it's because he's having a quarrel with his government. What you do about that is your problem."
For more information on the Writers of the Future ceremony where the predictions were revealed, go to http://www.writersofthefuture.com.
The Writers of the Future writing contest was initiated by L. Ron Hubbard in 1983 to provide a means for aspiring writers to get that much-needed break. Due to the success of the Writing Contest, the companion Illustrators of the Future Contest was created in 1988.
The intensive mentoring process has proven very successful. Past winners of the Writing Contest have published over 750 novels, 3,500 short stories and winners of the Illustrating Contest have had their art published in more than 500 books and magazines, with 4,500 illustrations, 350 comics and over 1.3 million art prints.