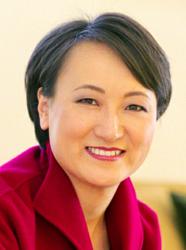 "Cinco de Mayo is an opportunity to learn more about the Mexican American experience, and be inspired by the perseverance and fortitude of the Latino community." --Assemblymember Mary Hayashi
Sacramento, CA (PRWEB) May 08, 2012
Representing the Asian and Pacific Islander Legislative Caucus, Assemblymember Mary Hayashi (D-Hayward) honored the achievements of the Latino community by speaking in support of a Cinco de Mayo resolution at the California State Capitol yesterday. ACR 146 declared May 1 to May 7, 2012 as Cinco de Mayo week, raising greater awareness about the freedom-fighting origins of the celebration and the contributions Latinos have made to the state and our nation.
"The Asian and Pacific Islander Legislative Caucus is proud to stand in support of ACR 146, honoring the bravery and spirit of the many Latinos who have defended freedom and democracy for the United States," stated Assemblymember Hayashi, who serves as Vice Chair of the Caucus. "Cinco de Mayo is an opportunity to learn more about the Mexican American experience, and be inspired by the perseverance and fortitude of the Latino community."
Cinco de Mayo, or the fifth of May, began as a commemoration of Mexico's unlikely win over French forces in 1862 at the Battle of Puebla. This underdog victory against tremendous odds was of special significance to Mexican Americans in the United States, who were supporting and joining the Union Army during the Civil War, opposing the institution of slavery and the Confederacy's ties to the French.
Later on, Cinco de Mayo would become a rallying point for activists in the Chicano movement of the 1960s to educate the public about Mexican American history and demonstrate pride in Latino culture.
Today, Cinco de Mayo is a popular celebration of culture and history, as well as the Latino community's contributions to civil rights, democracy, and society. ACR 146 urges all Californians to join in celebrating Cinco de Mayo, and particularly highlights the success of Latinos in the political arena.
Latinos have become a force in California politics, bringing their historical sense of justice to important public policy issues ranging from education and healthcare, to housing and jobs. ACR 146 also highlights that this year marks the 150th anniversary of the Battle of Puebla.
Assemblymember Hayashi is the Chair of the Business, Professions, and Consumer Protection Committee and serves the 18th Assembly District, which includes San Leandro, Hayward, Dublin, most of Castro Valley and Pleasanton, and a portion of Oakland, as well as the unincorporated areas of Ashland, Cherryland, San Lorenzo and Sunol.
# # #