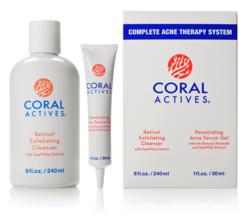 The team at Ermis Labs came up with excellent formulations to fight acne and clear skin. Their use of powerful ingredients made gentle with the use of Sea Whip Coral Extract is a perfect combination.

McCoy Moretz, MD
Gouverneur, NY (PRWEB) May 15, 2012
Acne affects millions of people each year. What was once though of as a disease of teenagers is slowing changing. Acne is gaining prevalence in older age groups. Recent studies have shown females in their 30's and 40's seeing an increase in acne.
Whether you are a teen with your first signs of acne or in adulthood still dealing with occasional breakouts CoralActives Acne Products will provide effective results with 2 simple steps that are well tolerated on the skin and include a renewable ingredient to help reduce redness and irritation; Sea Whip Extract.
Their Retinol Exfoliating Cleanser promotes good skin health for all skin types. It's ability to prepare the skin to receive the Penetrating Acne Serum makes it the perfect partner in the fight to treat acne. The cosmetic elegance of the acne serum and it's 6% benzoyl peroxide strength make it a winning combination for mild to moderate acne.
Additionally, the CoralActives Retinol Exfoliating Cleanser is a low-foaming formula developed with sensitive skin in mind. It combines a very unique encapsulated retinol delivery system with very fine microbeads and Sea Whip Coral. The CoralActives Penetrating Acne Serum Gel goes on light and dries quickly.
About Kinney Drugs:
Kinney Drugs was founded in 1903 by Burt Orrin Kinney. The company operates three divisions that offer healthcare services outside of the retail environment. These include ProAct, Inc., a full service prescription benefit management organization, HealthDirect institutional pharmacy services and HealthDirect mail order pharmacy services. Kinney Drugs is an employee-owned company headquartered in upstate New York.
About Ermis Labs:
Ermis Labs is a skin health company committed to formulating safe and exceptionally effective products. Their focus on high-quality ingredients partnered with professional counsel from dermatologists, plastic surgeons and pharmacists has resulted in skin health products with the effectiveness of prescription products but the value and convenience of over-the-counter products. For more information about their products visit http://www.coralactives.com