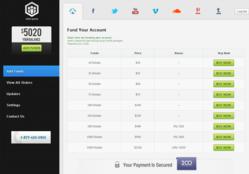 (PRWEB) May 10, 2012
Buy Real Marketing, a world provider of quality web 2.0 business applications has outdone itself again in providing clients convenience and easy accessibility to their services. Buy Real Marketing announces the launching of its client dashboard. In this client dashboard, all services are integrated in one central location where clients can easily purchase, manage and track their orders.
Buy Real Marketing offers services that help clients grow their business through social media. Among the services they offer are Twitter followers, YouTube views and Vimeo views, and the newly developed service, SoundCloud plays. The services work by depositing funds into the account that allows clients to fund once and purchase easily without multiple checkouts. The purchasing flow becomes easier and less interrupted. The funds can then be used to order any of the services within the client dashboard.
"The new client dashboard is a long-time coming undertaking of the company. As we go forward with our mantra of giving our loyal clients quality service, we now offer them the easy accessibility that a one-stop social media support can offer. They no longer need to jump from one website to another to get all their social media needs. It's all in here" says Managing Director, JP Bisson.
"Although we have taken a leap toward this direction, we are glad to announce that we have not removed the option of buying single packages directly from our sub-pages. If clients feel more comfortable trying out our services in single packages first, we will be more than happy to cater to their needs" adds Business Development - Managing Director, Jonathan Kennedy.
Social media packages are guaranteed 100% money-back and are given at affordable prices. Customer service is available 24/7 to answer inquiries and concerns regarding the services.
Buy Real Marketing client dashboard is one of the many milestones that the company plans to pursue in the future.
To visit the new client portal dashboard and know more about the company's services, visit their website at http://www.buyrealmarketing.com or contact them at 1-877-435-5955.
About
Buy Real Marketing is owned by Clicking Labs. Clicking Labs is a well established internet marketing company founded in 2010 by Jean-Patrick Bisson, Diana Quartin and Jonathan Kennedy. The company specializes in driving search marketing and social media traffic, social web app development and conversion optimization. Each product or service specifically helps small/medium website owners increase online visibility and improve online sales.
###