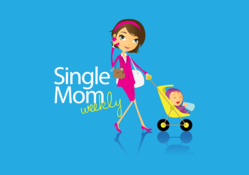 There is no question the toughest job out there is being a mom --no question
Harvey, LA (PRWEB) May 08, 2012
Single Mom Weekly has launched its 1st Annual Single Mom Mother's Day Giveaway. Regardless of how one becomes a single mom, the challenge of rearing kids alone is hard. Bay Buchanan, highlights this challenge in her book, "Bay and Her Boys: Unexpected Lessons I Learned as a (Single) Mom" (Da Capo; $25).
Buchanan, senior advisor to GOP hopeful Mitt Romney, echoes the sentiments of the thousands of single moms struggling to make ends meet. Many moms find out abruptly that there aren't many resources to support single mothers.
A quick look at the staggering numbers only reinforces the growing need for support of the single mother population:

10 Million - Number of single moms with children under 18 in the household (2011)
1.4 Million - Number of moms giving birth; not married, separated, or married with an absent spouse (2010)
5.2 Million - Number of single moms due child support (2009)
Programs that provide support, such as the Tampa Bay Buccaneers' Road to Success program, are few and far between and don't cater specifically to the single mom. "This is where we hope to help fill this need," said Wendy Webb, Marketing Director of Single Mom Weekly.com. "One of the most pressing needs we encounter with single moms is the lack of financial means to provide the basic needs for their families," said Webb.
With the recent publication of her book, Buchanan took a major step in helping to provide single moms with a tangible resource on mothering as a single parent. Single Mom Weekly is also making strides in helping to support the single mom community with a Mother's Day Giveaway. "This is but one of the many ways we are working with the single mom community to help families achieve balance and fulfillment," stated Webb. "Participation events like these not only provide support in the form of resources, but also offer a relaxing and fun way to engage with peers who share similar interests and challenges."
Single Mom Weekly is the premier online resource for single moms. To find out more or to enter the Single Mom Weekly Mother's Day Giveaway, visit us at http://SingleMomWeekly.com/contestant. To get weekly updates on upcoming events and other programs, subscribe to the free Single Mom Weekly newsletter by navigating to http://SingleMomWeekly.com/Subscribe.