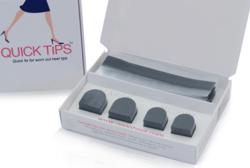 In less than a minute, Quick Tips can extend the life of a high heel shoe.
San Diego, CA (PRWEB) May 09, 2012
GoGo Heel, a new footwear company, has launched a new product for high heel shoes - Quick Tips™, the first quick fix for worn out heel tips. This first-of-its-kind shoe repair accessory doesn't require any tools and can be applied in under a minute. Quick Tips delivers a long-needed, convenient solution that benefits businesswomen, business travelers, and those who regularly wear high heel shoes.
Nearly every woman has experienced the hassle and irritation of worn out heel tips. It clicks, it's slippery, and it can ruin the most comfortable pair of heels if not repaired in time. Because heel tip repair is a time consuming errand, most women end up either wearing down their heel tips until they permanently damage their shoe heel, or they buy new shoes.
With Quick Tips, heel tip repair is fast, easy, and timesaving. In less than a minute, Quick Tips can extend the life of a high heel shoe.
Quick Tips consists of a protective cap that fits right over worn heel tips. The cap discreetly attaches to the heel with a no-residue, self-fusing band. No tools are required, making it the perfect "on-the-go" solution.
"What sets Quick Tips apart is that you don't need to remove the old heel tip. This eliminates the need for tools and allows anyone to fix their own heel tips anytime, anyplace," says Grace Hwang, Founder of GoGo Heel. "It's a simple, yet versatile product. You can use it as a temporary solution until you find time to go to a shoe repair or wear it long term, like a new heel tip. Also, the caps are reusable, so you can swap them between your shoes"
Quick Tips is patent pending and made in the USA. Each pack retails for $14.99 and includes 4 reusable caps that fix 2 pairs of shoes.
For more information on Quick Tips™, visit their website at http://www.gogoheel.com.
About GoGo Heel, LLC
GoGo Heel was founded by Grace Hwang, a traveling healthcare consultant who created Quick Tips for women that regularly wear high heel shoes. GoGo Heel is dedicated to helping women find convenient solutions to inconvenient problems.