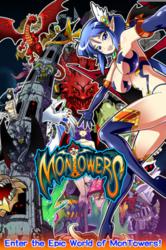 Seoul, South Korea (PRWEB) May 08, 2012
BuffStone's new launch, MonTowers, has generated plenty of positive chatter since its launch at the special introductory price of $0.99 and quickly became the #1 game in Japan. But BuffStone has set out to introduce even more players to the potential blockbuster by offering the game free of charge for a limited time only.
In the role of a powerful sorcerer assisted by one of his most attractive creations, the player will summon various monsters in order to defeat each level of the game's towers. Using powerful, magical alchemy combined with the monster coins earned as battle trophies, the player can summon ferocious, adorable, spooky, and beautiful terrors to fight his or her battles. Each monster has two upgrades available, and is enhanced not only with higher stats and new skills, but in appearance as well. The player can also judge his or her collection's completion by visiting the gallery.
Using coins, monster coins, and elemental gems mined from the field, players create their monsters. Especially rare and deadly beasts can be created using specialized sorcery and blending techniques as the player progresses, as well. Creative, detailed character design and engaging battle scenes keep MonTowers fresh from beginning to end, while the game's pacing and collection aspects make it incredibly addictive.
With 200 different monsters to collect and dozens of levels to defeat, MonTowers was a fantastic deal during the introductory sale. But now, it's an even better deal. MonTowers is available now in the iTunes App Store, free of charge, for a limited time.
Features:
*200 unique monsters to collect
*Take part in combat sequences by choosing the optimal moment for the player's monsters to strike
*Each monster can be upgraded twice, first to the Elder level, then to Master, enhancing their stats and acquiring special combat skills along the way
*Create even more brutal, bloodthirsty monsters to command by blending the most intimidating creatures!
*More than 100 levels of towers to dominate, each represented by a horrifying new opponent
*Complete your collection and undertake mini-quests to gain achievements
*Boost your monsters' HP with potions, so the player can keep them in fighting form
*Tokens can be purchased in app, but also replenish over time so the player isn't dependent on buying them
iTunes App Store: http://itunes.apple.com/us/app/montowers-legend-summoners/id517860442?mt=8