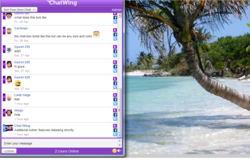 Nashville, TN (PRWEB) May 08, 2012
Chatwing's latest chat box is now ready to help people get the most of their weekend Internet surfing fun by providing an efficient stream of communication. The main goal of Chatwing's developers is to empower the premise of website chat and help web surfers communicate with each other adequately.
Chatwing looks like a simple application with a relaxing purple theme, but some bloggers consider it as a professional solution. Because Chatwing chatrooms is straightforward, many people understood its premise and used it right away. "Simplicity is everything. It seems like people hate applications with complicated commands. Install this, install that—very confusing for them. In this latest version of Chatwing, we simplified the buttons and added many avatar displays. In this way, people who want to chat leisurely can really maximize their time," Relays Ivan Diamond, one of Chatwing's project developers.
Chatwing's developers have also advised relationship and dating bloggers to use the chat box. In this way, the bloggers will get to communicate with their visitors. This level of communication must never be neglected because it can make or break a blog's online presence. Since there are lots of topics that can be talked about in Chatwing, it has the potential to turn any blog into an active chatting lounge. Chatwing also features Facebook integration so that visitors can exchange profile information easily.
To install and modify the shout box, the user must first register his blog's domain name and create an official account. In the customization phase, the user can now change the appearance of the blog. Height, width, color, and title are the factors that can be changed. After that, Chatwing will now generate the necessary HTML code. Embedding takes only a few seconds.
Users who want to know more about the Chatwing chat widget can visit its Facebook page. The page is updated with useful content. Adding to that, Chatwing's main website has an embedded chat box ready for chatting.
About Chatwing.com
Chatwing.com has developed live chat software for websites and blogs. It caters to different online communities due to its high rate of connectivity. Everyone can create a customizable live chat box feature in 1 minute or less. Users have the ability to customize the size, color, and fonts of the chat product. The ability to chat via social media accounts such as Facebook and Twitter enable Chatwing to offer a personal and unique real-time experience to all sites. Chatwing is 100% free and very easy to use.