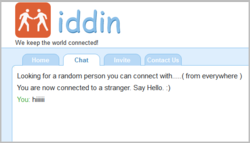 Washington, DC (PRWEB) May 09, 2012
Washington, DC – There are many ways a person can undergo online chatting, as proven by the thousands of chat applications created all over the Internet. Iddin's free chat tool, however, empowers the niche of random chatting. Iddin's developers believe that spontaneous chatting is more fun and thrilling compared to the traditional chat style. This spontaneity has appealed to 9gag Fans and they have started using Iddin to spread their classic humor.
Phrases such as "you don't say" and "challenge accepted" are now become common occurrences in Iddin chatroom. Some 9gag fans are actually using memes for their pictures, such as Dog, Troll face, Like a Sir, Insanity Wolf, Pedobear, and many more. For 9gag fans, random chatting is one of the best ways to tickle people's funny bones.
Iddin's random chats feature is quick and has a great span of global connection. An Iddin user can reach anyone from any parts of the world, provided they are online. It has been noted that daily Iddin users exceed ten thousand. This simply means that there are over thousands of active chatrooms in just one website. Lots of users have been asking Iddin developers how they were able to pull such feat. The developers have simply stated that they really work hard day and night to ensure that Iddin is stable to the core.
Iddin also safeguards the privacy of its users. Since users are not prompted to give out any personal information, there is no risk of information spillage. It has been known that hackers have been entering chatrooms in order to get emails, contact numbers, and even images. In Iddin, free chat is the number one priority. Once a user gets in the website, he can start chatting right away.
To use Iddin, the visitor must select a country from the drop-down list. This is where the stranger will come from. Adding to that, the user can select the 'Anybody' option and Iddin will zero in to the nearest possible user. This happens within a span of forty seconds, or maybe less. Iddin users can also upload their pictures. Anyone who wants to enjoy a quick moment of random free chat can now check out Iddin's main website.
About Iddin
Iddin is a free chat application that specializes in generating random chat with strangers. Users can choose the locations of the strangers, or they can have the engine to search the whole world. Random chat is encouraged to protect the identity of people and also to empower spontaneous connection that is fun and interesting. Users can visit http://www.iddin.com to discover its features.