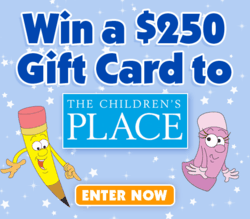 "The Children's Place is known for its well-priced, stylish clothing for kids, and TJ & Pals is thrilled to be able to offer this gift that any mom will love," said Ashley Lazarus, creator of TJ & Pals
Baltimore, MD (PRWEB) May 10, 2012
TJ & Pals, top educational preschool website, is sponsoring a sweepstakes full of fun for moms and kids. The Dress Me Up Mommy Sweepstakes winner will receive a $250 gift card from The Children's Place--just in time to start the summer in style.
It's easy to enter and win at Dress Me Up Mommy Sweepstakes. The sweepstakes is open to all US residents who are 18 years of age or older. The deadline for entry is July 8, 2012 and the winner will be announced Monday, July 16, 2012.
"The Children's Place is known for its well-priced, stylish clothing for kids, and TJ & Pals is thrilled to be able to offer this gift that any mom will love," said Ashley Lazarus, creator of TJ & Pals, "Of course, the gift of fun and interactive learning is available every day to moms and kids on the TJ & Pals website."
TJ & Pals did not stop at their popular preschool website. Umachaka Media Inc., the company that developed TJ & Pals, has also designed creative educational apps based on the characters in the TJ & Pals website. TJ's Remember, a fun memory game that can be played on three levels of difficulty with six colorful themes to choose from, TJ's Seek&Find, an app that develops children's pre-reading skills, and TJ's Art Studio, the perfect iPad app for any budding young Picasso are a great addition to a library of applications.
Children 3-5 years old can play games, sing songs, watch videos, and listen to stories on TJ & Pals interactive educational website. The games and activities revolve around the lives of an inquisitive pencil named TJ and his group of buddies, as they take kids on a journey of fun and learning. Everything on the website uses the important educational principle of learn as you play.
The philosophy behind the TJ & Pals educational website is to make learning fun through lots of interaction. Targeted games, puzzles, and activities on the preschool website pull kids in for the fun and before they know it, they are actively engaged in learning games. This ingenious approach is a well-researched, successful way of helping children to learn.