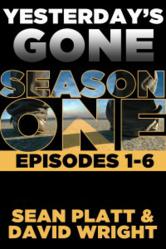 Any good writer can now make a full-time living purely as a writer, but you must first nderstand how to make it work in order for that to happen. That's why we started this podcast – to help writers finally realize their dreams of publication.
Cincinnati, OH (PRWEB) May 08, 2012
Kings of serialized fiction, David Wright and Sean Platt have joined popular blogger Johnny B. Truant for the Self Publishing Podcast, to help hard working writers get smarter faster.
Originally conceived with a twice per month schedule, the trio decided they had no choice but to accelerate their broadcasts to every week.
"Digital publishing, through Kindle and other e-formats is constantly changing. Writers have never had more opportunity, but the world they have to navigate has never been so big," said Truant. "Established authors are turning to this model, and leaving their back to old-school publishing deals. But even published authors with previous success don't necessarily know how to make the right decisions when it comes to modern, digital publishing."
Truant is fluent in the world of blogging, as a successful blogger and writer for some of the world's largest blogs, such as Copyblogger.Com and Problogger.Com. Platt and Wright have seen remarkable success with their weekly Kindle serials, including landing on the Top 100 Rated Fiction Books of All Time on Amazon.
The trio launched the new podcast, located at SelfPublishingPodcast.com, in mid April. Born from a desire to help others achieve the success they were achieving themselves, Wright, Platt, and Truant quickly decided a bi-weekly podcast wasn't enough.
The podcast is packed with advice, best practices, and interviews with experts would help others avoid the trial and error they'd had when publishing their own work.
"Indie publishing was once expensive and mostly ineffective," said Wright. "Now, anyone can publish. And profit. But it's also trickier, and you'll never sell millions of downloads if you don't put the pieces together correctly."
The Self Publishing Podcast, which publishes new episodes every Thursday, covers topics such as how to get started, how to make a compelling book cover, how to market your book, writing and editing tips, how to format for different platforms, and much more.
The podcast is peppered with Truant, Wright and Platt's trademark wit and friendly camaraderie. The show is available on the iTunes, Blackberry and Zune podcast directory, as well as non-subscription play through the website at SelfPublishingPodcast.com.
Wright and Platt publish one serialized piece of fiction each week, currently across fur separate series. Platt also publishes nonfiction through his publishing company Sterling & Stone, as The Digital Writer.
Platt and Wright are authors of the extremely popular post-apocalyptic horror serial Yesterday's Gone, while Truant is known for his humor novel The Bialy Pimps, which debuted in a splash through blog publicity in February.
"This is a brave new frontier," said Platt. "The good news is that any good writer can now make a full-time living purely as a writer, but you must first nderstand how to make it work in order for that to happen. That's why we started this podcast – to help writers understand, and to finally realize their dreams of publication."