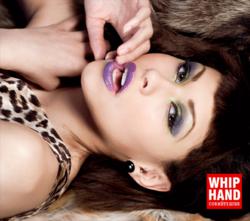 There is beauty being created here in Detroit. And Art. And jobs. And hope. We want others to feel that.
Detroit, MI (PRWEB) May 10, 2012
Whip Hand Cosmetics, the edgy, upstart Detroit-based cosmetics company is taking its first full collection of "Made in Detroit" color cosmetics and skin care products to The Makeup Show NYC, Booth 2F 22, May 13 – 14, 2012 at The Metropolitan Pavilion in New York City.
The mission: To prove that the Motor City not only produces automobiles, techno music and the best Coney dogs in the world, but also one-of-a-kind cosmetics that thrill and dazzle makeup professionals and cosmetics lovers alike.
"We chose The Makeup Show NYC to roll out Whip Hand Cosmetics' color collection because not only is it the largest pro-only makeup and beauty event in New York City, but also because we wanted to expose one of the world's epicenters of fashion and beauty to the incredible things that are happening in Detroit" says Riese Lauriat, Whip Hand Cosmetics Founder and Chief Makeup Artist. "There is beauty being created here in Detroit. And Art. And jobs. And hope. We want others to feel that."
The Makeup Show NYC marks Whip Hand Cosmetics' official entry into the cosmetics and beauty space.
All of Whip Hand Cosmetics' color cosmetics are manufactured locally in Metro-Detroit in small lots. Lauriat prototypes new colors and products and then works with professional makeup artists and clients to field test the concepts, gather feedback and then tweak them prior to producing the final product.
Whip Hand Cosmetics will be unveiling more than 80 new cosmetics products at The Makeup Show NYC, including:

More than 40 trend-setting eye pigments that give artists the ability to blend and differentiate their work like never before.
30 one-of-a-kind Crème Eyeshadows that match or complement the Whip Hand Cosmetics Pigment Collection colors.
Six sumptuous Lip Crèmes that provide the ultimate in workability – in shades that can be built on each other, creating one-of-a-kind looks for lips.
Six exclusive Crème Blushes
Set The Stage Primer ™ – Professionally-formulated makeup primer designed to provide the perfect base for foundation and color application.
The first products in Whip Hand Cosmetics' skin care line, including its Strike It Rich! Deep Cleansing Face Oil™, CTRL+ALT+DELETE Makeup Remover™ and Give Good Face Rosewater Face Tonic and Toner™.
The company will also be debuting its Power Tools Vol. I™ Pro Makeup Brush Collection, a collaboration between Whip Hand Cosmetics, MuseBeauty.pro and Esum™ Brushes – the hottest new premium makeup artist brush on the market.
The Special Edition makeup brush set contains seven Esum™ brushes hand-picked by Lauriat to provide artists with the best tools to complement the unique properties of Whip Hand Cosmetics' innovative crème eye, lip and face products. Power Tools Vol. I™ will be available for sale at the Whip Hand Cosmetics booth at The Makeup Show and will be bundled with a special Whip Hand Cosmetics Pro Skin Prep set.
"We're especially thrilled about the Power Tools Vol. I by Esum makeup brush set," said Lauriat. "We've been field testing Esum's brushes for months and we're blown away. Once artists and customers experience them, we think they'll be fans for life. This is the kind of brush that will quickly become an essential in every good pro kit and we're honored that Esum™ and MuseBeauty.pro agreed to collaborate on creating this first co-branded collection with Whip Hand Cosmetics."
For more details about The Makeup Show NYC, visit http://www.themakeupshow.com
About Whip Hand Cosmetics
Whip Hand Cosmetics celebrates the depth and diversity of today's modern, independent woman with luxury, professional makeup artist-quality cosmetics and face and body products made in the Detroit, by women for women. The company's edgy film-noir and vintage pulp fiction-inspired marketing and advertising features both professional models and "everyday women" who exemplify the Whip Hand philosophy of confidence, strength, independence, intelligence and personal style.
Whip Hand Cosmetics' products are only available at the Whip Hand Cosmetics online boutique at http://www.whiphandcosmetics.com; at professional makeup and beauty trade shows and through Whip Hand Cosmetics exclusive salons.
Follow Whip Hand Cosmetics on Twitter at http://www.twitter.com/@whiphandbeauty, on Facebook at http://www.facebook.com/whiphandcosmetics, and on Google+ at https://plus.google.com/102029555956311813935. Follow our fashion, beauty and cosmetics boards on Pinterest at http://www.pinterest.com/whiphandbeauty.
Matt Cardwell, Media Relations
Whip Hand Cosmetics
734-306-9531
mattcardwell(at)whiphandcosmetics(dot)com