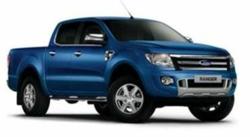 (PRWEB UK) 9 May 2012
Pickuptrucksdirect.co.uk, the UK's leading pick-up truck leasing company, is backing the new Ford Ranger and putting its money where its mouth is by pre-ordering £2.6million worth of the aspirational pick-up, which it anticipates will hit the sales of Toyota's Hilux and VW's Amarok.
pickuptrucksdirect sees the new Ford Ranger as a popular choice for the small and large fleet market, comments Andy Alderson, managing director of http://www.pickuptrucksdirect.co.uk, "Business owners that need van like capability and carrying capacity for their day to day work, can have this by combining the right canopy with the new Rangers impressive load area whilst benefitting from luxury car-like refinement at the same time. Fleet operators and small business owners alike will also see the tax advantages of leasing an LCV like the Ford Ranger which does the nitty gritty jobs needed during the week, while being a luxurious weekend warrior."
Despite the general talk of a double dip recession the funders that are operating in the vehicle finance market not only have funds available, as well as an appetite to lend, but they also have a much more pragmatic approach to business lending than that taken by the much maligned high street lenders. The funders have a positive view of the vehicle finance market, recognising the excellent returns and low risk associated.
As the largest pick-up truck leasing company in the UK ( last year it sold over 10% of the Nissan Navaras registered) pickuptrucksdirect has significant buying power and this is reflected in the terms that it has been able to negotiate for the new Ford Ranger with the knock-on effect being better leasing rates for its customers.
Comments Andy Alderson, "The new Ford Ranger has already had endorsement from the experts with great reviews, Autocar said that 'The Ranger is capable of vastly exceeding the needs of most potential buyers'. We are already seeing its' popularity in the number of calls and internet enquiries we're getting requesting Ford Ranger leasing deals. We anticipate that 90% of our pre-ordered Ford Ranger stock will already be contracted to customers by the time the pick-ups arrive in June."
*The pre-discount OTR price for a Ford Ranger is £26,000 equating to £250 plus VAT on a Ford Ranger leasing deal.