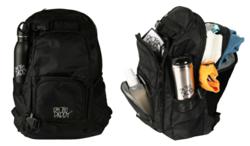 As a guy, I do not need to carry everything my wife carries in her bag, I need the essentials, and I want them ready when they are needed.
Los Angeles, CA (PRWEB) May 09, 2012
Who says diaper bags are just for moms? Dads carry them, too! Unfortunately for dads, the selection of diaper bags are lacking in numbers and style. Unlike moms who have hundreds of options, dads are usually limited to the black or brown version of the "mommy" bag. Who's looking out for the dads? The DaddyScrubs team, that's who!
Always keeping the dad in mind, DaddyScrubs has designed a diaper bag specifically for dads - the Daddy Diaper Pack™.
Retailing for $59.95, the Daddy Diaper Pack™ comes in a basic black, backpack with full straps and clips to lock it down, and take it off quickly and easily. The custom design allows less fumbling through deep pockets and eliminates struggling to take off the pack while holding the baby. The side pockets are great for water bottles, baby bottles, and sippy cups. There's also a big pouch for diapers and a change of clothes (and of course a small one for the "dirty stuff.") The front pocket is designed for the essentials that you don't have time to dig around for like; keys, money, a pacifier, small toys and a snack. And you can hook a whole assortment of items on the skater straps from sand pails, to beach towels, to flip flops, to hats, and wet clothes.
The Daddy Diaper Pack™ appeals to the surfer, skater, hiker, and the on-the-go daddy. It is a must-have, from the first overnighter at the hospital during labor and delivery, to walks to the park or running errands with baby, and beyond. It will surely continue to get a lot of use all through the next decade. Its sporty style, washable material, reasonably located pockets, straps, and clips, along with the fact that it's adjustable, comfortable and easy-to-carry and use, make it the number one item dads can't live without!
"Over the last few years my wife has bought me a handful of 'so-called daddy diaper bags,' they were a weak attempt at a bag for the daddy on–the-go. Just because they were black or brown, and not covered with flowers, did not make them a 'daddy diaper bag – they were still the same bag she had, with way too complicated of a design, more pockets than needed, and not a good to fit for lifestyle. There were unnecessary compartments that created bulk and weight," says DaddyScrubs founder Robert Nickell.
"As a guy, I do not need to carry everything my wife carries in her bag, I need the essentials, and I want them ready when they are needed. As well, I cannot jog, bike, hike, or go to the park, wearing a shoulder strap, or neck-strap, it is does not make sense for active daddies. I need comfort, and I need my hands free. I was looking for something simple, yet functional." Thus, the release of the DaddyDiaperPack™ as the newest member of the Daddy Gear Line by DaddyScrubs.
The Daddy Diaper Pack™ by DaddyScrubs is truly the ultimate diaper bag for dads. It's the go-to bag for dads on the go – for shopping, walking trips, car rides and emergencies.
About DaddyScrubs
Robert Nickell, a.k.a." Daddy Nickell," father of six, is the founder of DaddyScrubs.com, makers of Delivery Room Duds for expectant daddies and other essential Daddy Gear for all dads, and the DaddyScrubs blog where he offers his "5 cents" worth of advice to expectant and new parents, all from a Dad's perspective. For more information visit http://www.daddyscrubs.com.
See DaddyScrubs on YouTube http://www.youtube.com/watch?v=glZhOQAbjzc&hd=1.
Dads need simple. Dads need functional. Dads need the Daddy Diaper Pack™!
###
CONTACT:
Francoise Shirley
francoise(at)hollywoodconnectionspr(dot)com
(612) 564-5087
Amber Meyers
aclarkmeyers@gmail.com