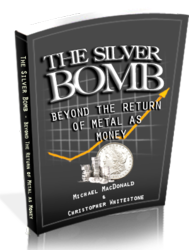 (PRWEB) May 08, 2012
Michael MacDonald, founder and CEO of the precious metal dealer Wholesale Gold Group and Christopher Whitestone, financial writer and entrepreneur, have released a brand new book , dubbed "The Silver Bomb" ,which predicts a return to metal as the world's primary currency. According to MacDonald, the book is aimed at those looking to diversify their investment portfolio and secure their assets over the long-term.
Why did MacDonald and Whitestone decide to author a book on the subject of silver? MacDonald notes: "Even though the writing is on the wall, I find that most Americans don't realize the rapid devaluation of paper currency that is happening right before our eyes. Many top investing experts believe that it is only a matter of time before the world's major banks press the reset button on our current fiat money system and put the globe back on a gold standard. Obviously, this would have massive repercussions for individual's investment portfolios. In my opinion, those with large stocks of physical silver and gold will fare best when this scenario comes to fruition. The Silver Bomb is meant as a wake up call to the investing community that now is one of the best times in history to invest in silver. In addition to letting investors know about this potentially lucrative opportunity, the book also delves into why people should shift some of their paper currency towards precious metals such as silver."
What does The Silver Bomb cite as reasons for people to put their money behind silver? Whitestone states that silver stockpiles are rapidly plummeting due to an increased global demand from both investor's and industry. He is quick to add that silver is a metal incorporated into over 10,000 different industrial applications from high-tech electronics, such as smartphones and laptop computers to batteries and solar panels. Also, The Silver Bomb states that the number of trained geologists is rapidly diminishing –reducing the chances that existing silver mines (which are already on the decline) will be exploited in the coming years.
Those looking to learn more about The Silver Bomb should head over to http://thesilverbomb.com/.