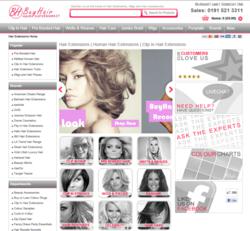 You can process your order from start to finish in less than 3 minutes.
(PRWEB UK) 9 May 2012
BuyHair.co.uk, an industry leading retailer of hair extensions and hair products, would like to announce the launch of their newly designed website.
BuyHair.co.uk supplies both businesses and consumers with high quality hair extensions, ranging from human hair to synthetic hair, along with tools and accessories for application and styling. Beyond offering high quality products, the company prides itself on their high level of customer service and support.
The BuyHair.co.uk website not only offers telephone and email services for sales and support, it also has an online chat service, allowing customers to ask questions and receive a response from trained hair experts. The site also has a unique service that allows customers to submit a picture of their own hair to discover their closest colour match.
BuyHair.co.uk has a news page dedicated to keeping customers up to date with the latest news on anything hair related. This page is perfect for those wishing to achieve a particular celebrity look at an affordable price. Find out more about the Hair Headlines news page at http://www.buyhair.co.uk/news.
The new website design takes into account hundreds of customer surveys and suggestions, giving loyal customers a big say in the site's functionality, navigation and aesthetics. One of the biggest changes comes with the addition of a guest checkout, allowing customers to buy without having to create an account. This means that if you are in a hurry, you can process your order from start to finish in less than 3 minutes. BuyHair.co.uk also offers a mobile site, allowing customers to purchase quickly and easily using their smartphone or tablet device.
This modern, easy-to-use website brings BuyHair.co.uk in line with its global competitors. You can view the new BuyHair.co.uk website design at http://www.buyhair.co.uk.