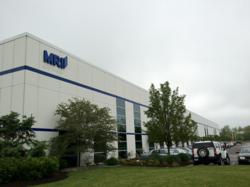 Cleveland, OH (PRWEB) May 10, 2012
MRI Software LLC, a leading developer of property management software, announced that it has moved its global headquarters just a few miles to the City of Solon, OH. MRI is experiencing significant hiring growth in Cleveland and has recently made a number of strategic acquisitions, having welcomed Workspeed, Bostonpost, and VaultWare to the family of MRI products. This move will enable MRI to accommodate employee growth and to provide amenities that will attract top-tier talent.
"MRI is growing at a tremendous rate," explained David Post, Chief Executive Officer of MRI Software, "and moving to our new headquarters in Solon will support this growth in a variety of ways. We appreciate the opportunity to partner with Solon and the State of Ohio, and we look forward to continuing our success in the greater Cleveland area."
MRI's new headquarters will be located in a state-of-the-art 100,000 square foot Class-A office building in Solon, southeast of Cleveland. The building was selected based on its tenant amenities, technology infrastructure, expansion potential, and collaborative workspaces. MRI has entered into a long-term lease to secure the facility over the coming decade and has worked vigorously with both the State of Ohio and the City of Solon to establish an economic partnership for job creation.
"We are thrilled to welcome MRI Software to Solon," said Susan Drucker, Mayor of the City of Solon. "They have already demonstrated a spirit of civic involvement that will make them valued members of our corporate community."
Solon, a southeastern suburb of Cleveland, was recently ranked the #3 Best Place to Live in America by Money Magazine. Its business-friendly climate has resulted in a diversified, stable tax base. It is also a sought-after residential location due to its city services, recreational facilities, center for the arts, and its school system, which was the highest-achieving in Ohio in 2010.