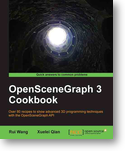 Birmingham, UK (PRWEB) May 08, 2012
Packt is pleased to announce OpenSceneGraph 3 Cookbook, with an aim to introduce users to the latest OSG 3.0 features to create stunning graphics, as well as integration with other famous libraries. Written by Rui Wang and Xuelei Qian, the book is enriched with a lot of code and necessary screenshots to create realistic effects with traditional and modern techniques.
OpenSceneGraph is an open source 3D graphics application programming interface for the development of high-performance graphics applications such as flight simulators, games, virtual reality and scientific visualization. It is based around the concept of a SceneGraph, providing an object-oriented framework on top of OpenGL. .
OpenSceneGraph 3 Cookbook starts off by taking the reader into the world of real-time 3D development with OpenSceneGraph, the world famous 3D graphics engine. Furthermore, this practical book will equip readers with 100 vivid recipes to demonstrate how to utilize the API flexibly and how to implement some practical aspects.
With the help of this cookbook, readers will learn to produce high-quality programs with short and familiar code. It also covers a wide spectrum of topics ranging from customizing OpenSceneGraph, designing scene graph, geometry, scene navigation, animations, effects using fixed pipeline and shaders, managing mass data, and miscellaneous discussions.
Written in a cookbook style, the book is full of recipes with practical examples enriched with code and the required screenshots for easy and quick comprehension. The book is out now and available with Packt in print and popular eBook formats. To read more about it and download a sample chapter, please visit the Packt web-page.
Packt has also earlier published OpenSceneGraph 3.0: Beginner's Guide, for software developers who are new to OpenSceneGraph.