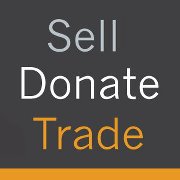 "I am delighted to be launching this new free fundraising service. It allows charities to benefit from jewellery and gold recycling without any concerns about liability, set-up costs and labour."
Spencer Cohen, CEO, Sell Donate Trade
London, United Kingdom (PRWEB UK) 9 May 2012
A new charity fundraising service has been announced today. Sell Donate Trade provides an easy and cost effective way for people to support good causes, by capitalising on the increasingly popular trend for selling unwanted valuables.
Unlike other gold and jewellery recycling which has to be managed by the charity, Sell Donate Trade handles the entire valuation and donation process on the charity's behalf.
For the first time cash strapped donors can also benefit by choosing to split the proceeds of their donation between their chosen charity and themselves.
Sell Donate Trade is a fully managed online service enabling charities to raise extra funds with no financial outlay, risk or extra work. Charity fundraising valuations are provided by a network of leading experts established since 1968 in London's Hatton Garden.
Charities can register free on the Sell Donate Trade website to receive their own online fundraising listing plus free ready made marketing materials to help spread the word amongst donors. Donations are then issued directly to the charity, who also receive the donor's data where permitted to enable database and relationship building.
People looking to donate to charity can obtain a free valuation online, by post or by phone. Carriage is provided via an insured Royal Mail postal service, with a pre-paid valuation pack sent straight to the donor's door. Donors can either choose to give the full value of their item or to donate a percentage and also receive a welcome windfall for themselves.
Sell Donate Trade also invites every site visitor looking to sell items the chance to donate to charity. The website provides a searchable listing of charities to encourage customers to donate. Where the customer's chosen charity is not listed they can easily nominate a new charity to benefit from the online fundraising service.
Supported by a team with 4 decades combined experience in the non profit sector, the company's CEO Spencer Cohen explains the value of this new service to both donors and hard working charities.
"In the current financial climate charities risk losing donors who have less expendable funds than they used to," he says. "Some of the larger non profits are experimenting with charity fundraising via jewellery recycling, but this is a specialist area requiring significant initial outlay, manpower and expertise. Sell Donate Trade is different. It's completely free to register and relieves the charity of any concerns about liability, set-up costs and labour. Even the smallest non profit can now benefit whilst freeing up time and resources to focus on their important service delivery."
Sell Donate Trade is now open to all UK registered charities to register their listing free and start their online fundraising. The site launches live to the general public on the 16th May 2012. Charities are encouraged to register online now for their free marketing materials in order to maximise the launch opportunity.
http://www.selldonatetrade.com
For more information contact:
Spencer Cohen
Sell Donate Trade
spencer(at)selldonatetrade(dot)com
+ 44 (0) 208 279 7687