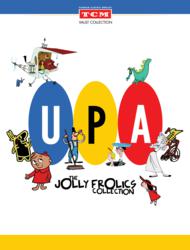 The UPA Classic Cartoon Collection is a welcome and anticipated addition to the DVD library of any fan of animation and classic movies.
Philadelphia, PA (PRWEB) May 15, 2012
UPA: The Jolly Frolics Collection, a set of 38 cartoons produced by United Productions of America Studios (UPA) at the height of animation's golden age, have been sought by collectors for years and is now available at Movies Unlimited. The UPA short films were released in theaters by Columbia Pictures during the late 1940s to the late 1950s. UPA was known for their inventive and stylish work, creating cartoons enjoyed by children and adults alike.
The UPA cartoons were the home of the cantankerous, near-sighted Mr. Magoo, who is featured in this collection in his debut, the 1948 short "The Ragtime Bear." The studio also played host to the Dr. Seuss-created Gerald McBoing Boing, a boy who speaks in sound effects, featured in three shorts here including his self-titled Oscar-winning first effort released in 1950.
Additionally, UPA: The Jolly Frolics Collection showcases cartoons featuring The Fox and the Crow directed by animation great John Hubley; the Academy Award-nominated "Madeline," based on the beloved children's book; an animated translation of Edgar Allen Poe's "The Tell-Tale Heart," narrated by James Mason; and "The Unicorn in the Garden," based on the writings of James Thurber. Each of the 38 shorts on the collection has been digitally re-mastered and animation experts Leonard Maltin and Jerry Beck contribute commentaries. Extras include examples of production art, marketing materials and a booklet that covers the UPA animators and their work, retailing for $39.99.
UPA: The Jolly Frolics Collection is being released in a partnership with Sony Pictures Home Video Entertainment and Turner Classic Movies in conjunction with Movies Unlimited.
Movies Unlimited is one of the world's oldest and most reliable video retailers of DVD and Blu-ray titles, specializing in hard-to-find movie classics. UPA: The Jolly Frolics Collection can be ordered through their website at http://www.moviesunlimited.com or by calling 1-800-4-MOVIES. The Philadelphia-based company also publishes the annual encyclopedic 800-page Movies Unlimited DVD Catalog.
For further information, please contact: Irv Slifkin (215-637-4444, ext. 6113) irv(at)moviesunlimited(dot)com