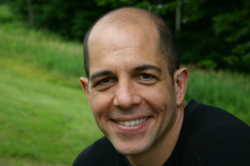 These 5 trends will be pieces of the puzzle as we seek to adapt to a changing world.
New York City, NY (PRWEB) May 10, 2012
"As global warming really only promises to get worse," Mark Spellun believes "we should watch for five critical trends over the next decade. None of these are the sole answer to rising global temperatures, but they all will be pieces of the puzzle as we seek to adapt to a changing world."
On his website, Spellun typically covers green business ideas, thoughts on clean technology, and trends that could drive cultural change. In 2004, he launched Plenty, a nationally distributed magazine which was at the forefront of covering the emerging green consumer and business revolutions.
"Plenty was a magazine designed to get people excited about the environment and saving the planet. Each issue was packed with stories of the people, technologies and ideas that were changing our world." says Spellun.
As for trends over the next decade, Spellun predicts:
Trend #1: Small is Beautiful Once Again
Gas has already hit record highs in some parts of the country. With instability in the Middle East and a global economy that may be ready to heat up, Spellun expects cars to get smaller and homes to become more energy efficient as people look to save some green even if they don't really want to be green.
Trend #2: Crowdfunding for the Environment
VCs and private equity will finance the large-scale solar projects, but Spellun points out that "many of the micro eco-innovations to get their initial capital through kickstarter.com or a green focused crowdfunding site, a number of which have recently launched, such as greenunite.com.
Trend #3: New Battery Technology
If electric cars are ever going to hit the mainstream, they are going to have to get more than 100 miles to a charge. IBM is exploring lithium-air technology (rather than the current lithium-ion batteries that power today's electric vehicles, cell phones and laptops). Lithium-air batteries take oxygen from the air, which then reacts with the lithium in the battery to produce electricity.
Trend #4: Disaster Preparedness Becomes Chic
Events such as Hurricane Irene will make people prepare for the worst. Smart families will have their survival gear at the ready and will be thinking about how to protect their home from the next natural disaster. Eco Steel has built a hurricane proof home on Cusabo Island, SC. It's Completely off the grid and 140 mph winds shouldn't ruin the family dinner.
Trend #5: Carbon Positive is the New Neutral
Green leaning companies or organizations could differentiate themselves by going carbon positive: Carbon positive actions take more CO2 out of the atmosphere than they put in. If you were planning on going carbon neutral already, you don't have to do anything different, you just have to plant more trees than you would have otherwise and perhaps install a few more solar panels.
For deeper insights on these topics or to join the debate, visit http://www.markspellun.com
About Mark Spellun
Mark Spellun is a media entrepreneur, having appeared on NBC, MSNBC, Fox & Friends and Fox Business as well as numerous local television and radio appearances to talk about green business and the modern consumer. Previously, he worked at the Economist Group. He has an MBA from the University of Oxford.