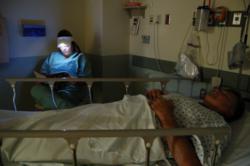 "Focus needs to be placed on how the multidisciplinary healthcare team can limit nighttime light exposure and interruptions of rest and sleep"

CriticalCareNurse, Vol 30,
No. 3, June 2010
Westlake, OH (PRWEB) May 09, 2012
Everyone has known someone or has had a loved one spend the night in the hospital. One thing is certain, sleep was not easy to come by for that individual. There are two key contributing factors to this, too much noise and too much light. JAZD-CAP, LLC has developed a simple yet ingenious patented solution to the light issue. They call it The Right Light® and they are hoping that it becomes the new universal symbol of nursing for night shift caregivers. Jodi Baron, President of JAZD-CAP, LLC was developing a lighted visor for college students, when her sister, a third shift nurse, came to her and said "I could really use your visor when I work at night." Baron then turned her focus to the healthcare industry and after many years of research and development The Right Light® was born.
"The Right Light®, very simply put, is a hat or visor that is equipped with a removable light unit located under the brim that can be used instead of turning on bright overhead lights. It is especially useful in healthcare settings such as hospitals, home healthcare, and long term care units, solving a problem that has become an area of great concern for the medical industry. Hundreds of articles have been written emphasizing how important sleep is to the recovery process, and how little sleep patients actually get, especially in hospitals where late night rounds are absolutely necessary. Lack of sleep due to the turning on of overhead lights is the second most common complaint according to patient surveys. We intend to provide the solution to this problem by making The Right Light® 'best practice' in all healthcare settings," Says Baron.
Currently The Right Light® is being used in several hospitals across the United States. "Our number one obstacle" says Baron "is that we are a very small company with an unknown product. We are currently seeking outside investments that will help fund the type of advertising and marketing campaigns that are vital to a new venture. With that in place, we know that we can take this product and make it soar."
JAZD-CAP, LLC is hoping to get the word out so patients and their relatives begin asking for The Right Light® by name if it is not being used during their hospital stay. They are encouraging people who know night nurses, to tell him/her about The Right Light®, get the word out. If someone has money to invest or knows someone who has money to invest in an up and coming business, they are asking them to invest their money; help JAZD-CAP, LLC get the word out! Patients everywhere deserve The Right Light®.