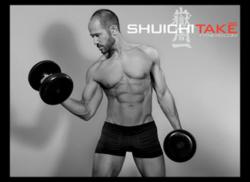 Miami, FL (PRWEB) May 09, 2012
Getting in shape like a celebrity or athlete is simplified at Shuichi Take Fitness, just ask Ludacris, Carlos Boozer and Alonzo Mourning. A common-sense approach to fitness means a realistic plan that complements most people's already-busy lifestyles instead of complicating them. Led by renowned celebrity trainer Shuichi Take, the fitness company runs smoothly on knowledge, experience and enthusiasm.
The Shuichi Take Fitness approach to instruction and motivation often times comes with a sense of humor as opposed to the stereotypical drill sergeant method—as evident in Take's YouTube video satire "Sh*t Personal Trainers Say."
Fitness goes digital, too. The Shuichi Take Fitness website is a portal to a world of fitness and healthy living. Access week-long workout schedules with daily instructions, learn to do each exercise properly with video demos and keep your diet in check with information from the frequently updated nutrition blogs.
Current and former clients include GRAMMY-winning rapper Ludacris; Former NBA star Alonzo Mourning; Latin GRAMMY-winner Jorge Moreno; NBA Hall of Fame member Patrick Ewing; NBA All-Star Elton Brand; NBA All-Star Carlos Boozer; and former Heavy Weight Champion Lennox Lewis.
Anyone who is considering a health and fitness regimen with Shuichi Take Fitness is invited to explore the many resources and preview the workout experience on the website. Visitors are encouraged to check back in at the website on a daily basis for new workout videos, fitness tips and nutritional advice.
About Shuichi Take Fitness
Whether the goal is weight loss, strength training or general fitness, Shuichi Take Fitness provides clients and with customizable plans to revolutionize their bodies. These fitness programs are designed to fit within each individual's busy schedule, leaving no room for excuses. Shuichi Take Fitness comes alive online and provides online clients and visitors with plenty of resources on nutrition, workouts and how to maintain a healthy lifestyle.