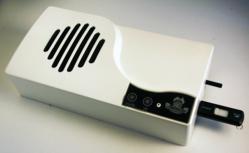 SET THE TONE
Sparta, NJ (PRWEB) May 09, 2012
Predominance LLC has enlisted the expertise of The Outsourcing Company of Oregon this spring to engage social media and spread the word. According to Rory Kaluza, digital branding director with The Outsourcing Company, perhaps as much as 80% of Facebook business users don't utilize their site effectively. "If you own a business this may be the most cost effective, comprehensive plan of attack to assure your product is recognized". The Strategy is simple: Share information about the product in as many ways as possible. Facebook, Twitter and Linked-in are critical in getting the message out that this product exist and will point to where customers can find it.
The Tommyknocker MP3 digital doorbell was released in October 2011 in the United States and plans to distribute the non- wireless doorbells worldwide. The business model proposed by Predominance LLC will focus on branding the non – wireless doorbell with the original Tommyknocker logo that includes the label "Digital Doorbell" and the curious "door knocking gargoyle".
"We are trying to separate ourselves from our competitors with the look as well as the technology of our product", says Scott Steinetz, co- inventor of the Tommyknocker. "This doorbell relies on USB technology to upload MP3 files, this technology is exclusively ours to use in a digital doorbell because we have the patent".
Getting up to speed with the social networking may take a little while", says Steinetz," but we are confident that once the product gets traction, it should take off. This doorbell is competitively priced with many MP3 players at the $135.95, and it is built to last a very long time. Besides, it's a fun alternative to a solenoid style doorbell, and users can constantly change the files to suite their mood".
The Tommyknocker is available at http://www.tommyknockerdoorbell.net