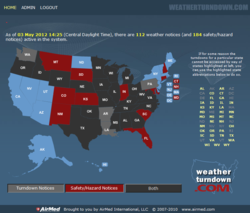 WeatherTurndown.com is an award-winning, free service for all air medical transport programs in the United States
Birmingham, AL (PRWEB) May 15, 2012
WeatherTurndown.com, the award-winning air medical industry reporting site, celebrates its fifth anniversary with more than 500 industry programs as active members on the site. WeatherTurndown.com has also launched a discussion group on the social network site LinkedIn allowing registered air medical programs to further share information and insights on safety issues and concerns to their programs and the industry as a whole.
Weatherturndown.com is a free service allowing medical transport programs—both rotor and fixed wing—to share current information regarding delays or cancellations due to weather or, if applicable, other hazards that may affect safe medical transports. The site was the recipient of the Association of Air Medical Services (AAMS) award for "Excellence in Community Service" for its contribution to the entire air medical community.
All registered programs with WeatherTurndown.com will be invited to join the new LinkedIn Discussion Group that will feature polls and topics of interest to the medevac community. Users can also find WeatherTurndown.com information on Twitter @wxtd.
The term "weather turndown" has long been used in the aviation field as a shorthand term for inclement weather conditions and the subsequent 'turning down' of transport requests within that area as a result of the weather conditions. Having a centralized source for weather issues and other safety concerns related to the air medical industry across the country assists medical transport companies to better serve their patients and keep safety at the forefront of their operations.
The website, http://www.weatherturndown.com, is designed and maintained by fixed-wing air ambulance operator AirMed International of Birmingham, Alabama.
AirMed International is one of an elite number of air medical programs to be accredited by the Commission on Accreditation of Medical Transport Systems (CAMTS) and designed this free service as another way to promote safety and the open sharing of information among air ambulance programs. CAMTS has established standards (19.02.00 – 20.02.00) used by its accredited programs in the event of weather turndowns. All programs are encouraged to utilize the website.