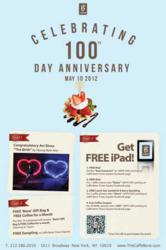 Ahn's art work expresses his "congratulatory messages to 'the birth' of Caffe Bene as well as the café's early achievements."
New York, NY (PRWEB) May 09, 2012
With three special events, dozens of giveaways and free coffee samplings for its loyal customers, Caffe Bene Times Square is celebrating its 100th-day anniversary in style on May 10th.
The first American location for the popular South Korean franchise, the Times Square store opened early this year and has helped thousands of customers "have a bene day" with its signature medium-roasted dripped coffees and Belgian waffles.
The special event includes an art exhibition, "The Birth," featuring the work of Hyong Nam Ahn, who has been invited by the Soma Museum of Art in Seoul, Korea, to exhibit with world-famous artist Nam Joon Baik. His work will commemorate Caffe Bene's first 100 days in Times Square. In his own words, Ahn's art work expresses his "congratulatory messages to 'the birth' of Caffe Bene as well as the café's early achievements."
In addition, Caffe Bene is giving its first 10 customers (starting at noon) on May 10 a free Bene gift bag and free coffee for a month as well as free samples for all customers throughout the day-long celebration.
Inspired by Facebook fans, the third event includes two free iPads giveaways: one for the "best comment" on the Caffe Bene Times Square Facebook page under this special event posting. The second one will be randomly drawn for someone who shares the store's 100th day posting online. Other online raffle winners will receive free lunch sets, and, naturally, free coffee coupons.
"We love helping our customers 'have a bene day,' and we are thrilled to celebrate this new location, great coffee and the vibrancy of Times Square with them all day long on May 10," said Suran Kim, Chief Director at Caffe Bene Times Square. "Times Square and New York have welcomed us with open arms and this special day gives us the chance to say 'thank you' 100 times over."
Caffe Bene Times Square is located at 1611 Broadway. Store hours are 5:30 a.m. to 2 a.m. An additional 100 Caffe Bene locations in Manhattan and another 100 locations throughout the United States are expected to open in the next three years.