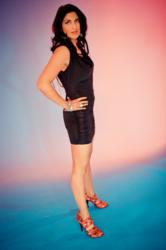 The portfolio of Nellie is just launched
London, UK (PRWEB UK) 9 May 2012
A model returns to her roots with a brand-new portfolio launched today. Nellie Sihra is 45 but looks at least 10 years younger. A model once before and now again, thanks to the expert model advice supplied by http://www.lamodelondon.com, she shows it's never too old to go back to modelling. La Mode would urge any aspiring model to take up the challenge at whatever stage of their career, especially if they've been successful at it in the past.
'Everyone that I come into contact with is stunned when I admit my years,' says the star of La Mode's latest model launch.
Being a model is all about youth, or is it? According to the commercial photography company in the heart of the modelling world, whatever age they may be, a model can begin their career at any stage of their life. With their latest portfolio launched online today, the UK's capital model advice specialists believe if a model has got what it takes, then age isn't important.
Tailor-made and open for viewing, the portfolio of Nellie is just launched with perfect model application.
'Anyone over the age of 30 is classed as a mature model', says Helen Smith, director at La Mode. 'Age is something to be celebrated and we applaud any aspiring model that has the guts to kick start their modelling career later in life. For this particular client, Nellie used to do modelling when she was younger and now at the age of 45 she has decided to give it a go again.'
When asked if she had any previous modelling experience, Nellie admits,' yes a long time ago. I have modelled for Kodak, camera clubs, and for company training and documentation. I have also modelled for sales and marketing material and for a Barclays Bank commercial. '
Urged by her family and friends to take up modelling once again she said,' I don't look my age and I take good care of myself and the way I look. I keep being advised to go back to it as I'm a natural so here I am.'
La Mode certainly feels that the 5' 5," brown haired and brown eyed girl looks amazing for her age. They put it down to her very busy fitness regime, her boxing, combat, running and gym training which she has certainly put to good stead and kept herself looking wonderful. They believe a model of any age, if they have looked after themselves, can be successful.
La Mode specialise in providing all the latest up-to-date modelling advice as well as offering a top-class photo shoot to help an aspiring model launch the career. With an accompanying website, the latest model on their books shows age certainly shouldn't hold back a model with potential. Life certainly can begin after 40 according to http://www.lamodelondon.com and Nellie is definitely testament to that.
'Nellie is very keen to make a return to modelling and our advice was to definitely not think twice. She has a wonderful smile and a very bubbly personality. We also found she was a natural in front of the camera and is excellent at working with other people, 'continues Helen. 'These are all really important attributes a model needs.'
Nellie is interested in all sorts of modelling such as advertising and commercial work. She also isn't shy about bearing all if any life or art modelling work became available.
To view Nellie Sihra's information and her stunning new model portfolio just launched online, visit http://www.lamodelondon.com