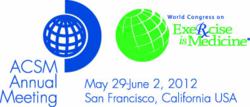 (PRWEB) May 10, 2012
WHAT: The American College of Sports Medicine's 59th Annual Meeting and 3nd World Congress on Exercise is Medicine®. The 2012 meeting offers keynote lectures, research presentations, panel discussions and workshops presented by internationally recognized authorities in sports medicine and exercise science. Featured sessions profiling the newest research topics include:

Physical activity and bone health
Adiposity, fitness, and cardiometabolic health
Role of exercise in rehabilitation of burn patients
Exercise and aging
Nutrition for health and performance
Promoting physical activity in the 21st century
Fitness performance optimization
Atherosclerosis and activity
And much more original science; more than 2,500 abstracts will be presented
Special presentation:

Dr. Sanjay Gupta, Chief Medical Correspondent, CNN
"Using the Power of the Media to Help Build a Fit Nation"
For a complete schedule of sessions, download the advance program.
The 3rd World Congress on Exercise is Medicine, held in conjunction with the ACSM Annual Meeting, will convene some of the world's leading experts to build on the global charter launched in 2010. This year, Exercise is Medicine will activate its regional centers and offer a forum to share ways attendees can activate the initiative in their community.
WHEN: May 29 – June 2, 2012
WHERE: San Francisco Convention Center
747 Howard Street, San Francisco, CA 94103
WHO: More than 6,000 participants – including internationally recognized sports medicine physicians, researchers and educators – will attend the meeting and address cutting-edge issues in the field. The World Congress draws public health experts, government officials, scientists and advocates from six continents. Many of these experts will be available for media interviews.
MEDIA NOTES: Registration for the 2012 ACSM Annual Meeting and World Congress on Exercise is Medicine is free for members of the media. Media who attend will have exclusive access to experts presenting at and attending the meeting. ACSM staff will be on-site to help coordinate interviews and photo opportunities with these experts.
For more information or to reserve your credentials, please email your name and media outlet to Annie Bell at abell(at)acsm(dot)org.