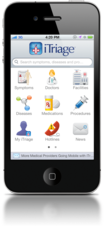 With the rapid increase of smartphone use, it's critical to provide people with the resources to quickly and easily access health care information on the go
Waconia, MN and Denver, CO (PRWEB) May 09, 2012
Ridgeview Medical Center has partnered with iTriage® – a free health care app that allows consumers to find the closest medical providers and facilities directly from their smartphone or computer.
"With the rapid increase of smartphone use, it's critical to provide people with the resources to quickly and easily access health care information on the go," said Doug Stasek, Chief Administrative Officer, Ridgeview Medical Center. "Our partnership with iTriage allows us to connect with patients at their time of medical need."
The partnership enables Ridgeview Medical Center to provide residents in the west-metro region of the Twin Cities with at-your-fingertips information about Ridgeview Medical Center, Ridgeview Clinics and Two Twelve Medical Center – the state's first freestanding 24/7 emergency and urgent care facility that is owned and operated by Ridgeview. Using iTriage, consumers can locate the nearest medical providers from any location in the U.S., learn about services and:

Search a database of medical symptoms and conditions
Learn about possible causes and treatment options
Have medication refill and appointment reminders added to personal calendars
Conduct advanced sorting of doctors
iTriage is available as a free download from app stores for iPhone® and Android™ mobile devices, and is accessible from any Internet-enabled device at http://www.iTriageHealth.com.
About Ridgeview Medical Center
Ridgeview Medical Center is an independent, regional health care network serving the west-metro area. Its award-winning network includes the Waconia-based acute care hospital, numerous primary and specialty care clinics, emergency services, specialty programs and Two Twelve Medical Center in Chaska—a free-standing 24/7 emergency and urgent care facility with multi-specialty clinics and services. For more information about Ridgeview Medical Center and its clinics, visit http://www.ridgeviewmedical.org. For more information about Two Twelve Medical Center, visit http://www.twotwelvemedical.org.
About iTriage
iTriage LLC, headquartered in Denver, Colorado, is a global health care technology company founded in 2008 by two emergency medicine physicians. The company's market-leading platform and mobile/Web applications offer a proprietary Symptom-to-Provider™ pathway that empowers consumers to make better health care decisions. iTriage helps people answer the two most common medical questions: "What could be wrong?" and "Where should I go for treatment?" Millions of consumers around the globe have downloaded the free iTriage mobile app on their iPhone and Android devices, and thousands of health care providers use iTriage to reach and communicate critical facility and service information to patients. For more information, please visit http://about.iTriageHealth.com.