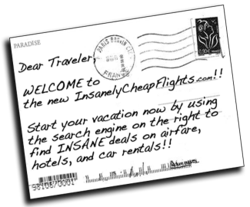 We wanted to get back to what's worked for us – cheap flights
(PRWEB) May 09, 2012
Newcomer InsanelyCheapFlights.co had a big week in social media. Less than seven days after launching late last week, the site racked up over ten thousand 'likes' from fans on Facebook, with thousands more added every day.
Launched as a spin-off of InsanelyCheapFlights.com, the slightly shorter domain will focus on daily travel deals, both in the U.S. and internationally. The first deal offered on the site - up to $20 off flight bookings to thousands of destinations - has proven extremely popular and has been shared extensively through online social networks.
"We were surprised by the reaction," says CEO Steve Oliverez. "The site seems to have struck a chord. Travelers are looking for great deals in this economy, and we're trying to make that easier with this site."
Specifically, InsanelyCheapFlights.co is promoting cheap flights to London, as well as cheap airfare to Paris. Domestically, the site is offering up to $20 off already cheap flights to New York, and discount airfare to San Francisco. The promotion is good on flights originating from most airports. "We wanted to make sure these deals were available to a majority of travelers," says Oliverez.
The company's original website was launched in 2009 and has seen steady growth in the crowded online travel industry. The website was founded with the goal of finding the cheapest flights available, but has since added hotel booking options as well as car rentals and packaged travel. With the new website now live, the company's focus is again on finding cheap airfare for flyers. The site's simple design is in keeping with its goal of being a destination for travel bargains.
"We wanted to get back to what's worked for us – cheap flights," says Oliverez. "It's what we're good at and it seems to be what people are looking for." The flight promotion will run through the end of May and applies to service fees only.