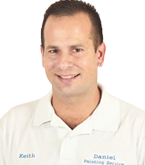 Orlando, Florida (PRWEB) May 10, 2012
Orlando based painting company - Daniel Painting Service today announced exciting plans for large-scale expansion. From a small, one-man operation, this family-owned business has increased its client base to nearly 400 a year and now plans to cover the whole of the central Florida area to become the state's number one painting service.
"We have been working very hard at Daniel Painting Service to deliver an excellent service to our clients and we now feel it's time to grow our business", said Managing Director Keith Daniel. "We started off with just a handful of clients and we were just Orlando based painters, but thanks to hard work our reputation is growing and we now work with nearly 400 customers a year. We aim to become the number one painting company in the whole of Florida."
Daniel Painting Service has produced thousands of quality results for homes and businesses in the Central Florida Area and is widely recognised as the leading painting company in Florida. The Daniel Painting Family prides itself on quick clean service and building long and last relationships with its clients. Their attention to focus and precision is what sets them miles apart from everyone else. They also offer a guarantee that they will never leave a job until their end customer is 100% happy with their work.
"Our goal is to dominate the retail industry so we can look out for the consumers. It's not about money, it's more to look out for homeowners who are getting this kind of work done and who are being sold to, not taught. Our goal is to fix the homeowner's problems, to get people to start questioning things a little bit more. That's why we have a painters' guide on our website for people to download, to teach our customers about the methods that work."
The painting industry is overrun with contractors who persuade homeowners to use their services by quoting at unrealistically low prices. The result is a poor quality job that misses vital components and doesn't last long. At Daniel Painting Services, they have published a painting guide especially for customers and free copies of this guide are available on the Daniel Painting Service company website. They offer exterior painting service as well as being known as interior house painters.
"Our quotes are sometimes higher than other contractors' because we do a detailed job. Low quotes often miss things and don't provide essential details – I can think of one example where the contractor had quoted for the materials and not for labour at all."
"We want to ensure that fewer people fall victim to shoddy jobs and under-quoting. That's why we want to become the number one painting service in Florida, so that we can bring quality and fair prices to homeowners and make sure they get real value for money", said Mr Daniel. "Our objective is to provide an outstanding service, to continue to carry our 100% satisfaction rating forward into the future to an expanding client base."
The Daniel Painting Service team have over 25 years' experience in the painting industry and are renounced painters in Orlando. "We know about houses and sound construction too, so we look at more than just the paint job. If something is wrong with the house, like a loose water pipe, we'll point it out. We are experts in water intrusion, seeking and finding leaks, and we are crack repair specialists. We repair cracks using long-lasting methods that the rest of the industry does not have."