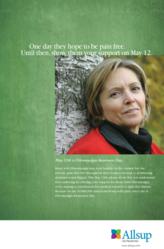 "You can't see pain, so it's challenging for individuals who have a healthy appearance to convey how profound their symptoms can be."
Belleville, IL (PRWEB) May 08, 2012
Fibromyalgia is a common cause of work-related disability, and the chronic pain that characterizes the disorder can take an emotional and psychological toll. May 12 is Fibromyalgia Awareness Day, and Allsup, a nationwide provider of Social Security Disability Insurance (SSDI) representation and Medicare plan selection services, is offering a Fibromyalgia Day Awareness poster download to help make fibromyalgia visible.
"We work with individuals with fibromyalgia every day," said Mike Stein, Allsup's assistant vice president of claims. "We appreciate the challenges they face in getting an accurate diagnosis and communicating how fibromyalgia affects their daily lives. You can't see pain, so it's challenging for individuals who have a healthy appearance to convey how profound their symptoms can be."
Gwenn Herman understands those challenges well. Following a motor vehicle accident that resulted in chronic pain, the licensed clinical social worker and diplomate in clinical social work started a support group in 1999 that formed the genesis of the national nonprofit organization, Pain Connection.
"We are constantly judged because we look normal," said Herman, Pain Connection's founder and executive director. "No one really understands unless they have it. Fibromyalgia Awareness Day really calls attention to it, and hopefully, with more education and awareness, people will start looking for resources, and then they find us [Pain Connection]."
Pain Connection's mission is to help people with chronic pain improve their quality of life and take a more active role in their health.
According to the Centers for Disease Control and Prevention (CDC), working adults with fibromyalgia average almost 17 days of missed work per year compared to six days for persons without fibromyalgia. Working age women with fibromyalgia hospitalized for occupational musculoskeletal disorders were almost 10 times less likely to return to work and four times less likely to retain work one year after hospitalization. For many, return to full-time work is impossible due to the severity of symptoms such as:

widespread pain,
problems sleeping,
fatigue,
morning stiffness,
tingling or numbness in hands and feet,
headaches, including migraines,
irritable bowel syndrome,
problems with thinking and memory (sometimes called "fibro fog"),
depression and psychological distress.
"Whether it is fibromyalgia or another condition that causes chronic pain, we all go through the same process," Herman said. "There is grief, loss, changes to your family, career, your whole life. We try to help people 'normalize' and live in the present. That is one of the hardest things to do."
Filing for SSDI is often an important step toward that goal, as benefits include regular monthly income (based on the FICA taxes the individual paid into the system) and Medicare eligibility. Health insurance is essential for individuals who have pre-existing conditions and lose their employer-sponsored coverage when they can no longer work.
For more information on Pain Connection's programs, services and support groups, log on to http://www.painconnection.org.
For a free SSDI evaluation, go to Fibro.Allsup.com. You can download the Fibromyalgia Awareness Day poster at AllsupCares.com.
ABOUT PAIN CONNECTION
Pain Connection is a 501(c)(3) not-for-profit human service agency that serves people in chronic pain and their families. It provides monthly support groups, speakers series, supervision and training of professionals, information and referrals, one-on-one peer support, group therapy through pain management clinics and community outreach and education. It is based in Rockville, Md. For more information, go to painconnection.org.
ABOUT ALLSUP
Allsup is a nationwide provider of Social Security disability, Medicare and Medicare Secondary Payer compliance services for individuals, employers and insurance carriers. Founded in 1984, Allsup employs more than 800 professionals who deliver specialized services supporting people with disabilities and seniors so they may lead lives that are as financially secure and as healthy as possible. The company is based in Belleville, Ill., near St. Louis. For more information, go to http://www.Allsup.com or visit Allsup on Facebook at http://www.facebook.com/Allsupinc.
Contact
Tai Venuti
Allsup
(800) 854-1418, ext. 68573
t(dot)venuti(at)allsupinc(dot)com
Gwenn Herman
Pain Connection
(301) 231-0008
info(at)painconnection(dot)org